Founded by the Greeks over two centuries ago, and thriving since the Norman occupation in 1063, the quaint beach town of Cefalù has long been one of Sicily's most popular and iconic tourist destinations, and many people consider buying a house in Cefalù one of the island's safest investments.
It's not hard to see why – the two kilometres of unbroken sandy beach is a star attraction, as are the spectacular panorama from the top of the rock that looms over the town. But this enchanting community has a cultural legacy that is as fascinating as its views are beautiful. The magnificent Arab-Norman architecture of the town's cathedral was recognised by UNESCO in 2015, as they designated it a World Heritage Site.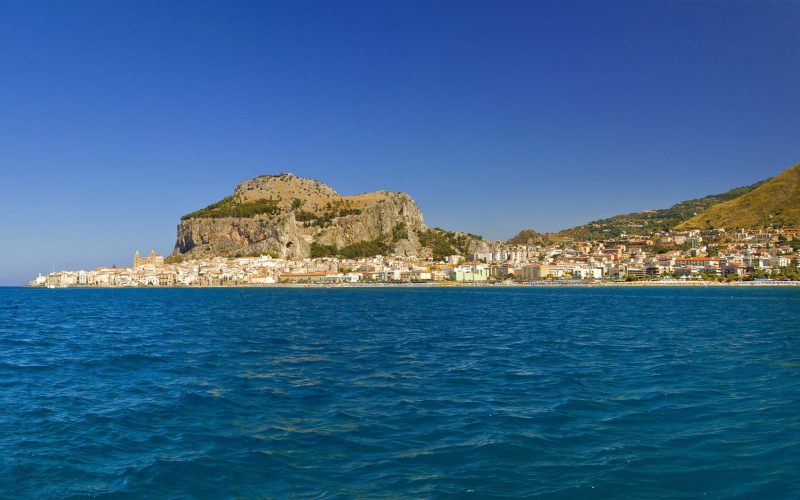 Stories and Traditions of Cefalù
Other attractions for history lovers include the Mandralisca Museum, with its collection of archaeological discoveries and an art collection spanning the Byzantine era and the Renaissance. A fascinating sight is the Medieval wash-house, with the channels which funnel fresh water down from the nearby hills beautifully preserved and still delivering an ice cold stream today. The city is protected from the sea (and unwanted visitors) by the megalithic walls which have stood since the fifth century B.C. And atop the Rocca stand the remains of a temple to the Goddess Diana which dates back almost as long.
Culture vultures will marvel at the intricately painted ceilings of the Teatro Salvatore Cicero, a location immortalised in the Oscar-winning 1988 film 'Cinema Paradiso' , as was the view from the distinctive angular pier which juts out from the town's old harbour. In summer, and at other periods of celebration, the streets and squares of the town echo to the sounds of communally-organised performances and some talented street artists. The slippery August ritual of the Ntinna A Mare has delighted crowds since 1783.
One of the joys of Cefalù, in comparisons with other famous tourist towns like Taormina or the Cinque Terre, is that it still feels very much alive and 'local'. When the tourists trickle home in October the place is certainly quieter, but it's still filled with the people whose families have made it home for centuries.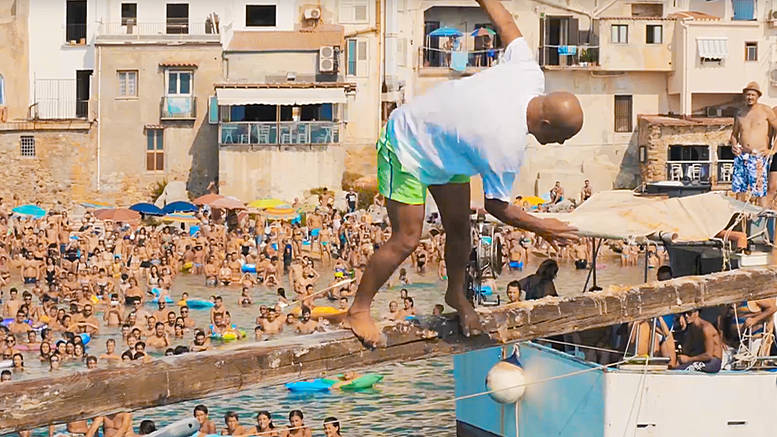 If it is said that the way to a person's heart is through their stomach, Cefalù is liable to capture yours in the space of a few meals. From traditional trattorias and great value seafood (Taverna Tinchitè and Sutt'a Ràvia are our top tips in those categories) to fine dining (don't miss the taster menu at La Galleria), from the fusion food found at sushi bar Naka to the unmissable courtyard dining of the Bastione pizzeria and restaurant, there is something for everything. And this is Sicily, so there's plenty of street food to snack on, from Don Ciccio's pani câ meusa to all the cannoli you can eat.
Finally, we should declare a personal interest. Cefalù has been home to one half of our family and one of the offices of Property in Sicily for decades now. Our associate language school, Solemar Academy is based here – if you're put off buying property in Sicily by the language barrier, you've no excuse in Cefalù!
Real Estate in Cefalù – Where to Look?
If you're interested in buying a house in Cefalù, you have some strikingly different options with dramatic pros and cons. Let's run through a few…
1) The 'Centro Storico'
The old town centre of Cefalù will capture your imagination and transport you to another place and time. As those of you who've visited its narrow cobbled streets and hidden piazzas will understand, stepping out of your front door here has a bit of a feeling of living in a fairytale, or perhaps on a film set! That makes an apartment here (essentially all of the property in this area is apartments) a beautiful purchase and a great investment as a tourist let, but there are some practical issues to consider.
The old town is closed to traffic except to residents, who can apply for a permit to enter. Navigating the tight corners and dodging the pedestrians who claim the streets as their own is not an experience for everyone, however, and parking anywhere near your home can be tricky to find. Moreover, these buildings are centuries old – don't expect to find elevators or perfectly even surfaces here.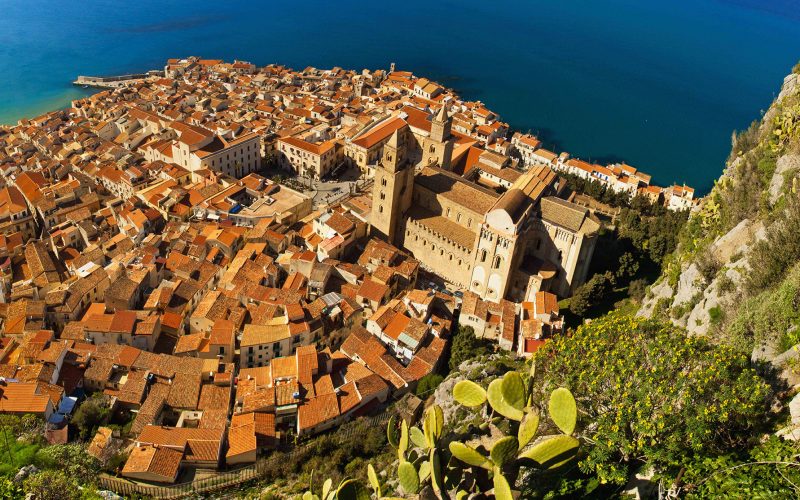 2) Beach Houses in Cefalu
If you prefer the comfort and convenience of a modern property with outdoor space, private parking and ready access to the sea, the areas to search are Mazzaforno and Salinelle to the west, and Sant'Ambrogio to the east. These small communities are considered part of Cefalù, but each (and especially the hilltop town of Sant'Ambrogio) has a distinct local centre and village-y identity. In these areas you will find private villas and some small private communities with shared amenities.
While these areas are justifiably popular with beach-goers in the summer, their stretches of sand are less crowded than the main lungomare in Cefalù. Served by pizzerias and local shops, they make a practical and affordable compromise.
3) Villas in the Hills of Cefalu
The most expensive and luxurious real estate in Cefalù. If you dream of a detached property with a sea view, a terrace, perhaps even a pool, the hills that surround the town are full of potential. Between 2 and 5km from the Centro Storico the views are spectacular and the air is cooler and fresher than it is at sea level. Be aware, though, this combination of luxury and location will inevitably come with a significant price tag attached!
4) Further Inland
If you like the idea of evening excursions to the town, or summer afternoons on the beach, but also dream of a greener, more peaceful lifestyle, we highly recommend the sparsely-populated hillsides around the town of Gibilmanna. Still administratively considered a part of Cefalù, the nature of life up here could not be more different. Only 10km inland but with peaks over 1000m above sea level (further up than the any mountain in England, for context!), this area is in fact the foothills of the beautiful Madonie natural park. With stretches of pine forest interspersed with meadows and pasture, the region is a haven of biodiversity and wonderful territory for agro-tourism and nature lovers.
Factors to consider in this area include the obvious requirement of a vehicle and, if you are building from scratch, the need for water, electricity and planning permission. A great way to get around these is to renovate an existing property.
5) Nearby Alternatives
While undoubtedly a beautiful and charming town, buying a house in Cefalù can be an expensive proposition and we recommend that you take a look at surrounding towns as well. You can find dramatic differences in price just by crossing the invisible boundaries that separate Cefalù from the neighbouring municipalities of Castelbuono, Pollina, Isnello, Gratteri and Lascari. In fact, we selected two of these, Pollina and Gratteri as our best investment tips for buying property in Sicily.
If you love the idea of a place by the sea (and who doesn't?) but don't want the higher prices and cost of living that come with living in a tourist hotspot, we would strongly recommend you to investigate the areas of Lascari, directly west along the coast from Cefalù, and Campofelice, the next comune along. We don't point you towards the towns themselves, which are small and not remarkable in their own right, but to the surrounding areas.
The fields that surround Campofelice are legendarily verdant and fertile. The area's very name translates as 'happy fields'! If you've ever dreamt of starting an agricultural business in Sicily, you'll find this area both literally and metaphorically ripe for the harvest of olives, fruit and vegetables.
Downhill, closer to the sea, the district of Calzata belongs to the municipality of Campofelice but is, in effect, a small village in its own right, filled with beach houses and private communities, many of which offer direct access to the sea. There is great value to be found here, with prices far lower than Mazzaforno or Salinelle, but exactly the same environment and infrastructure.
Whether you find the perfect property within Cefalù itself or in the surrounding districts, one thing is for sure: the beautiful Medieval town will be a regular destination to find food, friends and photo-ops! We look forward to welcoming you and helping you settle in.