Happy Clients are our Greatest Reward!
We wouldn't be doing this work if we didn't get a genuine kick from seeing satisfied customers start their new lives in Sicily. It's our home too, and we've been enthusiastically spreading the word about its beauty and potential long before it became our profession!
Because of that philosophy, we don't believe that the job stops when the ink dries on the contract or when the keys are in your hand, but when you've got your new home or investment property looking just the way you want it, running smoothly, and ready to welcome some guests of your own. There's nothing more rewarding than to see our clients become a part of their new communities.
We like to say that a transaction only ends with satisfaction for new friends!
This could mean something as simple as helping you get connected to utilities and wi-fi or as important as helping you put together the perfect team to renovate your purchase, or maybe even build something from scratch. Perhaps you even want a team to manage a rental property in your absence?
In the Press
We're regularly mentioned in newspapers, on the radio and in all kinds of other media.
Here are just a few examples of what people are saying about us.
STERN MAGAZINE (de) extensive and independent article about some clients who bought in Sicily with our agency.
INDEPENDENT UK (eng) extensive article about the 1-euro scheme.
TRAVELMAG (eng) interesting article about purchasing a house in Sicily and how important it is to get a valuable agency assisting in the process. 
First-hand Feedback
However big or small your needs, we're here to help – but don't just take our word for it! We're immensely proud to be able to introduce you to some of our previous – and current – clients. All have volunteered their time and testimonials freely and there are no actors here, as we're sure you'll be able to tell!
If you've bought real estate through Property in Sicily and would like to share an update on how things are going for you, we're always delighted to receive news!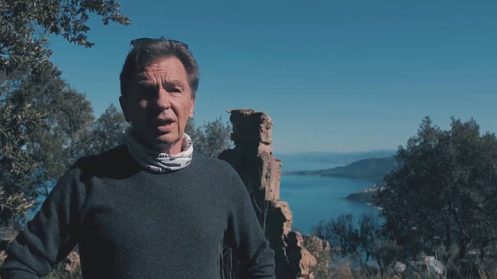 Testimonial One: Herbert
Herbert, from Munich in Germany, had travelled around the Mediterranean looking for his perfect property before he discovered Sicily four years ago. His quest was to find a peaceful spot to live in harmony with the surrounding nature, and with complete energy independence.
We helped him find his perfect plot of land (with a glorious sea view), assembled a team of specialists from geologists to green energy expert, and are now managing the construction site for him. The foundations have been laid and we have even drilled a well to guarantee Herbert a limitless supply of mineral-filled mountain water.
Less than six months after purchasing the land, Herbert will be living in the house of his dreams, and as you'll see from his testimonial, he couldn't be happier!
Testimonial Two: André and Bernd
Not many people have been lucky enough to see as much of the world as Andre and Bernd, from Frankfurt in Germany. Working in aviation, their careers have taken them to all four corners of the Earth, but when they were looking for a new home away from home they couldn't find anything to compare with the romance of renovating an old fisherman's cottage in Aspra, Sicily.
It's been our pleasure to introduce the guys to a community in the area of around a dozen recent arrivals from overseas – several of whom were also clients of ours – and they've found it an invaluable source of advice and place to swap stories.
Not that they've lost any time integrating with the local life either! They tell us they can't mention theatre tickets or a new museum exhibit in nearby Palermo to their new friends without receiving a raft of recommendations for where to eat while they're there. Well, you can't feed the soul without feeding the body too!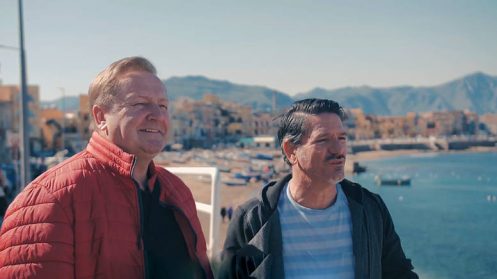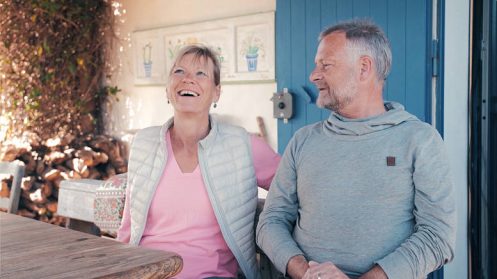 Testimonial Three: Katrin and Jens
A married couple hailing from the north of Germany, Kathrin and Jens found themselves in Sicily rather by accident. After being invited to a friend's birthday party down here, Kathrin caught the Sicilian bug, and on her return passed it to her husband…
Property in Sicily first helped them to buy a renovated property in the little fishing village of Porticello, and later to take advantage of the favourable market to add an apartment in the centre of Palermo, but they just couldn't resist completing the hat-trick with this beautiful Tuscan-style villa in the green hills inland. Although it was only intended to be a holiday retreat, it has become their home and now they can't imagine themselves anywhere else. Sicilian life is certainly full of these happy accidents!
Testimonial Four: Kirsten
Sometimes you don't choose your new Sicilian home – it chooses you! Kirsten, an IT professional from Bavaria in Germany, travelled the length and breadth of the island as a tourist, but one particular spot kept drawing her back. Cefalù, with its breathtaking views and welcoming community, became a regular holiday haunt, and the rest is history.
"I had never considered buying a property abroad" says the latest addition to that community, "But it was actually really easy!" She tells us that when she first caught a glimpse of her new apartment, almost directly on the beach in the old town, it was love at first sight. Having shown her around the beautifully renovated property, we have to say we're not surprised!
In this video Kirsten not only gives us a tour of her new home but offers some top advice for prospective purchasers. We're so happy to have her around the corner from us in Cefalù – welcome to the neighbourhood, Kirsten!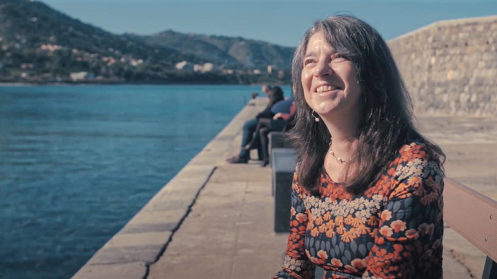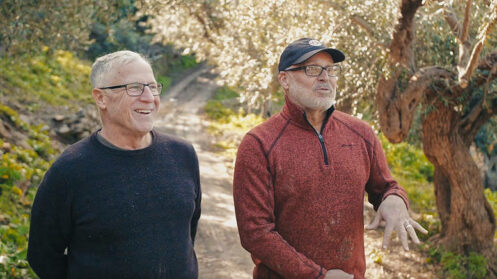 Testimonial Five: Mike and Tom
Mike and Tom come from the USA, and this year moved to a house on the outskirts of Termini Imerese in search of the peace and quiet that only the Sicilian countryside can offer. The great attraction of their newfound home was the large olive grove standing within its confines. This has allowed the intrepid pair not only to call Sicily home, but to take a leap into the world of organic agriculture!
There was certainly some renovation work to do on the country house, but with the assistance of Property In Sicily they are now the island's latest and proudest residents. We were even able to help by signing their purchase deed, while they were still in the US. Now they're fully settled-in, and making the most of every day's new adventures. We can confirm that Mike is already cooking lasagna like a native!
Testimonial Six: Luisa & Brent
This lovely Californian couple fell in love with the Madonie mountains at first sight. Drawn to the area by its scenery and variety, it was the warm welcome of the friendly locals that made it feel like home. From their first visit to their new property, this traditional town opened their hearts to the new arrivals, even staging a dinner in their honour!
We were delighted to help Luisa and Brent every step of the way, from the initial survey and negotiations to the logistics of their arrival in Sicily. We don't think there's a greater gesture of trust than to buy an apartment without even visiting it, and we're absolutely delighted and very proud our new friends are as pleased with the outcome as we promised them they would be.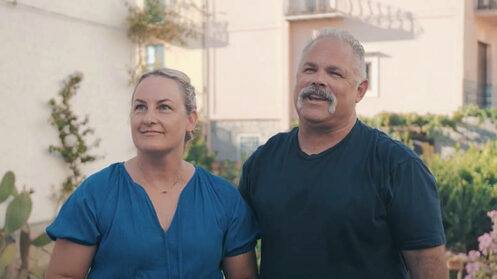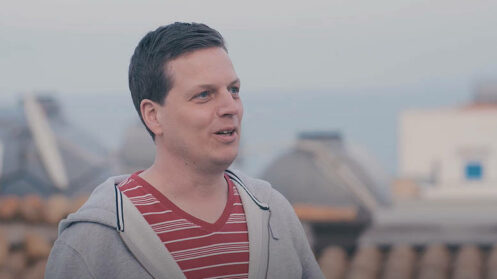 Testimonial Seven: Johan
Johan and his wife had long been thinking about a second home to escape the Scandinavian winters, hunting for a place all over in the Mediterranean for years. However, as foodies with a fondness for wine and good restaurants, Sicily was a case of love at first bite!
Their three storey apartment in Porticello, just outside Palermo, gives them the perfect base from which to explore – and taste – everything the island has to offer. In time they'll have two floors for themselves and one more for guests, but the restoration work is going to take a while. We're thrilled to be helping the lovely couple turn the characterful building into a true dream home. But please can we have a go in that rooftop jacuzzi when it's installed?

Ilona Fischer
10:20 29 Mar 23
Die Hausabnahme ist für den Mai geplant! Die Reparaturarbeiten gehend prima voran. Die Kommunikation Online, klappt ebenfalls gut. Wir werden regelmäßig anhand von Bildern über den laufenden Arbeiten informiert. Bis jetzt sind wir sehr zufrieden und freuen uns das alles so klappt. Alles läuft nach Plan. Ein großes Lob an Stella und Gregorio der die Arbeiten für uns umsetzt.

Dialogo Werbeagentur
18:17 22 Mar 23
Bei unserer Suche nach einem Haus hat uns Property in Sicily/Casa in Sicilia enorm unterstützt. Wir haben die in Frage kommenden Objekte in den Immobilienportalen ausgesucht. Thomas Grüssner hat sie vor Ort bewertet un Empfehlungen ausgesprochen. Sie haben mit der Agentur des Verkäufers kooperiert und Von unserem Favoriten ein erstklassiges Video mit detaillierter Beschreibung und Bewertung erstellt. Wir mussten uns um nichts kümmern, somit haben sie uns auch mehrere Reisen nach Sizilien erspart.Als wir das Haus besichtigt haben, war alles, wirklich alles, 1:1 wie im Video beziehungsweise. der Beschreibung. Auch alle weiteren Schritte hat uns die Familie Grüssner abgenommen. Bis hin zum Notartermin. des weiteren haben sie ein Bankkonto eröffnet, email eingerichtet, dien Strom angemeldet und sind auch jetzt vor Ort jederzeit mit Rat und Tat für uns da. Es war ein rundum sorglos Paket. Ohne Property in Sicily hätten wir viel mehr Stress gehabt. Ein dickes Dankeschön und Lob an Familie Grüssner.Gaby Herbst - jetzt glücklich in Altavilla Milicia.

Sönke Petersen
16:46 22 Mar 23
Wir haben über Casa in Sicilia unser Haus in Catania gefunden und möchten das Team herzlichst weiterempfehlen! Durch die super Begleitung von Thomas und Gaetano haben wir uns im gesamten Such- und Kaufprozess sicher gefühlt. Es war immer klar was der nächste Schritt ist, warum etwas getan werden muss und wie. Das ist Gold wert bei der Immobiliensuche auf Sizilien! Dazu kam die große Freundlichkeit und Hilfsbereitschaft, das erlebt man selten bei einer Firma. Großen Dank auch an Stella, die für uns nach dem Hauskauf mit viel Geduld und Herz alle Behördenanmeldungen sowie Strom, Wasser und Internetaktivierung veranlasst hat. Top!

Peter Griggs
19:59 06 Feb 23
Purchased a property found in 2020 through the Casa in Sicilia website, purchase being completed in early 2021. Valerio Gruessner (the agent) speaks good English and, I believe German and French, which is most reassuring for a non Italian speaking purchaser. At our request, he introduced us to an English speaking lawyer to assist us during the buying process who turned out to be first rate. The two worked together closely to ease the whole process considerably. Valerio also arranged opening an Italian bank account for us, essential for the purchase process. Since that time - it's now early 2023 - Valerio has responded promptly and helpfully to a couple of 'living' issues that we have encountered. Whilst Italian real estate agent fees are high, certainly compared with our UK experience, I consider these responses to post sale issues 'above and beyond' what we could have reasonably expected. What could have turned into a daunting process - purchasing overseas for the first time - actually turned into a pretty smooth process. As a purchaser, a pretty satisfactory process.

Joachim Grabowsky
12:31 21 Nov 22
Hervorragender Immobilienmakler. Beste Betreuung und Begleitung vom Anfang bis zum Ende und darüber hinaus. Noch einmal vielen Dank. 100 % Weiterempfehlung!

Hans Friederich
14:56 06 Oct 22
We would not now be owners of a beautiful home in Northern Sicily without the help of The Property in Sicily team … FACT!We found our house 'by accident' while walking in a stunning area of countryside south of Cefalu. There was an old perished VENDESI sign in the window. Was it still for sale? Who was the agent? How could we go about trying to buy this property we had fallen in love with?! The next day we returned home to Malta, but the house was still in our thoughts. We actually found the house for sale on an Italian website and realised we need help to proceed! In our search we came across the Property in Sicily website and we were immediately struck by its professionalism. The descriptions of properties they were marketing were simply excellent, and it provided useful and unbiased advice on purchasing property in Sicily. We contacted Valerio Gruessner, explained our situation and asked if he would be able to help us. He answered immediately and gave us several options. We said yes please!We are two non- Italian speakers (although we are now learning!) but we were guided almost seamlessly through the purchase procedure. From beginning to end, Valerio and his team were behind us. Any query was answered promptly, things we thought would be problematic were not, and within the space of a few months the house was ours. In addition to that, the whole team has been consistently friendly, helpful and very pleasant to work with. A big plus for us.We are sometimes sceptical about reviews, but in all honesty we cannot recommend or praise Property in Sicily enough. They seem to be able to turn property dreams into reality. They did for us anyway.Bee Bonniger and Hans Friederich

Susie Tombs
21:33 05 Oct 22
Property in Sicily helped us realize our dream of buying a home in Sicily. Valerio showed us some wonderful properties but once we saw Villa Lidia we knew it was the one. Valerio and his team made the purchase process easy, handling everything for us including setting up our Italian accounts, scheduling the inspection and writing the contract with some special requirements. Although it took a little longer than expected (and we've found everything in Sicily takes a little longer than expected and that's ok) everything turned out the way we hoped. And the services didn't stop after the purchase. Now that we own the villa, we are working with the Property in Sicily team on remodeling the house and installing a pool. I can't imagine doing this without their help!

Gunter Hermans
06:13 27 May 22
We have just concluded the purchase of a property in Sicily. We saw this property advertised on a real estate website and it was sold through a local real estate agent that did not speak English. We contacted Property in Sicily with the question whether they could serve as intermediate and assist us in the process, as we had no experience in buying a property in Sicily. We were immediately contacted by Valerio Gruessner of Property in Sicily, who clearly explained the process of purchasing a property in Sicily and what they could assist with. We decided to have Valerio represent us. That proved to be a very good decision. Valerio guided us smoothly through the process: contacting the local real estate agent, visiting the house and making an inspection report of the status of the house including a video showing all details of the property, arrange our codice fiscale, getting a report confirming that the house has the necessary permits, negotiating with the seller on our behalf, getting all documents from the notary, being present during the signing of the final deed, etc.. In other words a full service without which we would not have been able to conclude this purchase. Thank you very much Valerio and your colleagues at Property in Sicily for your help, friendliness and patience.I also would like to mention the services of Fabrizio Pace of the insurance company UnipolSai, whom was recommended to us by Valerio for ensuring the property. The morning of the day we signed the deed we met with Fabrizio who explained all aspects related to insuring such a property in detail. He gave the right recommendations of which risks to ensure, just to make sure we would be safe and hassle free. Fabrizio is a person who is looking to provide you with the correct insurance, and not a person who will offer you things you do not need. Honest and very friendly. In less then 2 hours the house was well ensured!When we had the idea of buying a property in Sicily I was very uncertain about the process, not knowing the local rules, customs and regulations. It is people like Valerio and Fabrizio that put you at ease, make you feel comfortable and take a big weight of your shoulders. Looking back it all went smooth and with minimal stress and the credit for that goes to them.

Jean Bastide
10:09 13 Feb 22
Wenn man mit dem Gedanken spielt, sich eine Immobilie in Sizilien zu kaufen, sollte man dieses unbedingt mit Valerios Unterstützung machen. Valerio und Giuseppe sind sehr freundlich und zuverlässig. Alle Absprachen wurden perfekt umgesetzt, so etwas wünscht sich jeder. Es ist eine echte Freude mit ihnen zusammen zu arbeiten. Volle Empfehlung unsererseits.

Thomas Wilhelm
08:36 16 Sep 21
Valerio did a great job in helping us find and buy a small house (villa) in the country outside of Termini Imerese. He also helped us get property insurance and get our electricity set up. Giuseppe has also been a good support for us. Valerio and Giuseppe speak excellent English in addition to Italian, Sicilian, German and other languages. I would highly recommend Property in Sicily!

Dihya Sophie Biesinger
08:19 16 Sep 21
Tolle Beratung für den Immobilienkauf auf Sizilien mit viel Wissen über Land und Leute und vor allem über lokale Gesetzmäßigkeiten und Möglichkeiten für Umbauten etc.

Stefano Marelli
14:27 02 Jun 21
Thomas helped me to find a great house in Sicily, in Santa Flavia. Professional service. Grazie.

Eric Sobolewski
12:26 02 May 21
Thomas und Casa in Sicilia sind der One Stop Shop für jeden, der darüber nachdenkt, in Sizilien ein Haus zu erwerben. Er kennt sich in Sizilien aus wie ein Einheimischer, ist verlässlich, schnell und setzt sich mit vollem Einsatz für seine Kunden ein. Auch schwierige Verhandlungen sind für ihn kein Problem. Absolute Empfehlung.

Danila Moro
07:25 12 Apr 21
Luogo stupendo, estrema pulizia, i titolari sono persone estremamente disponibili.

Wolfgang Stumm
15:34 10 Apr 21
Es war 2017, als wir mit den Gedanken spielten, uns neu zu orientieren, zu definieren und unserem Leben eine neue Richtung zu geben. Wir fragten uns, was tut uns gut, was können wir finanzieren und was können wir mit langer Perspektive betreiben. Wir waren zum damaligen Zeitpunkt ein Pensionato und eine baldige Pensionata. Aus oben beschriebenen Punkten blieb nach intensiven Recherchen nicht 'Mar-A-Lago' oder 'Port d'Andratx', sondern das wunderschöne Sizilien mit Meer und Bergen, Naturparks und barocken Städten und vielen freundlichen, stets hilfsbereiten Sizilianern. Eine Insel ohne Chichi aber spannender Kultur. Wir haben uns für die Region Palermo entschieden und sind auch mit Sack und Pack dorthin gezogen, eine Rückkehr nach Deutschland ist nicht geplant. Wir haben im Internet nach einem Anbieter gesucht, der eine kompetente, seriöse 'Rundumversorgung' anbietet und uns Starthilfe in der neuen Umgebung gibt. Wir haben Casa in Sicilia gewählt, weil sie selbstverständlich seriös und kompetent in allen Fragen des Immobilienkaufs beraten. Sie beschönigen nichts und helfen die Fallstricke - von denen es jede Menge gibt - zu überwinden. Bei einer von Casa in Sicilia vermittelten Immobilie kann man sicher sein, dass dies eine seriöse Sache ist und einem später keine Unannehmlichkeiten auf die Füsse fallen. Sie bieten eine 'Rundumversorgung' an, die diesen Namen auch verdient. Nicht nur den Kauf wickeln sie sicher ab, sie helfen auch bei der Wahl der Handwerker, geben wichtige Tipps z.B. zur medizinischen Versorgung. Sie geben oder vermitteln Sprachkurse. Sie haben uns geholfen am sizilianischen Leben und Alltag teilzunehmen. Bäcker, Fischer, Metzger, Biobauern - alle haben uns im Verteiler. Familie Grüßner-Carnevale ist so viel mehr als ein Immobilienagent, sie sind Akteure für ein neues, junges und wow!!!! Sizilien. Seit 18 Monaten sind wir hier. Ohne Casa in Sicilia hätten wir das niemals geschafft. Heute können wir mit einem gewissen Stolz sagen, 'wir haben alles richtig gemacht und wir bereuen nichts'. Dank Familie Grüßner-Carnevale.

Kurt Kling
08:31 05 Apr 21

Tatjana Cardiano
07:05 04 Apr 21
Wir haben uns von Thomas Grüßner von der Besichtigung bis zum Notar bestens betreut gefühlt! Wenn ihr mit Thomas ein Haus kauft, habt ihr gleichzeitig eine befreundete Familie auf Sizilien gefunden. Im Moment habe ich bei seiner Frau Italienischunterricht! Wir hätten es mit ihm nicht besser treffen können. Wir empfehlen Familie Grüßner ausdrücklich!

Kirsten Matthaeus
19:05 31 Mar 21
Ciao,Ich habe letztes Jahr eine Wohung in Cefalù gekauft. Fuer mich ist Casa in Sicilia die erste Adresse fuer den Kauf einer Immobilie in Sizilien. Thomas und Valerio sind nicht nur exzellenter Berater beim Kauf, sondern sie sind auch jederzeit erreichbar und stehen einem bestmöglich zur Seite. Von der Besichtigung bis zur Vertragsunterzeichnung und auch noch danach, wenn es Dinge wie Strom/ Wasser ummelden, Versicherung etc. zu regeln gibt.Ich bin gluecklich hier und kann nur Danke sagen.Ciao ciaoKirsten

Alexis Brudermann
10:34 29 Mar 21
Ich kenne Thomas Grüßner seit 30 Jahren und kann nur positives berichten.

Haus Frohnau
16:03 28 Mar 21
Sehr gute Betreuung durch Casa in Sicilia. Ohne Thomas hätten wir uns das nie getraut. Er hat uns tolle sizilianische Partner für unsere Bauvorhaben vermittelt und ist weiterhin immer für uns ansprechbar.

Cynthia Scholten
12:11 28 Mar 21
Die erste Adresse, wenn man vorhat sich in Sizilien ein Ferienhaus zu kaufen oder sich dort nieder zu lassen. Thomas Grüßner wohnt schon sehr lange mit seiner Familie auf der Insel, kennt sich sehr gut aus und ist nicht nur ein exzellenter Berater beim Kauf, sondern er ist auch jederzeit erreichbar und bemüht einem bestmöglich zur Seite zu stehen; von der Besichtigung bis zur Vertragsunterzeichnung und noch danach steht er einem zur Seite! Gerade wenn man noch nicht die Italienische Sprache beherrscht, wirklich eine elementare Unterstützung! Seine Team besteht aus ihm und seinen Söhnen, ein Familienbetrieb! Und das merkt man auch gleich im Umgang mit ihm. Herzlich, unkompliziert, aber wie auch schon oben erwähnt jemand vom Fach und vor Ort!

Kirsten Wlotzke Mast
09:34 28 Mar 21
Wir haben Thomas Grüssner bei unserer Suche nach dem perfekten Spot für unseren Sehnsuchtsort auf SizilienKennengelernt - und - nur wenige Wochen später über ihn den richtigen Platz gefunden.Dass aus dem zu renovierenden Rustico dann aber ein hinreißendes Grundstück mit rundum Meerblick wurde, ist heute unser ganzes Glück!Ohne die Unterstützung von Herrn Grüssner und seinem Team hätten wir aber ganz sicher nicht die vielen nötigen Dokumente und Behördengänge in Sizilien bewältigt.Grundsätzlich aber gilt es zu bedenken ,dass diese Prozesse ihre Zeit brauchen und ein wenig Geduld ist von Nöten.Von der Baugenehmigung bis zur Auswahl der Bauunternehmen wurden wir perfekt gecoacht - zur Zeit wird unser modernes Rustico gebaut- das Team Grüssner betreut engmaschig unsere Baustelle , und schickt Bilder und Videos in reger Abfolge .Obwohl wir covidbedingt zur Zeit nicht viel vor Ort sein können ,haben wir keine Sorge , dass irgendetwas nicht nach unseren Vorgaben und Interessen laufen könnte.Ganz großes Lob an Thomas ,Valerio und unsere sizilianischen Partner auf dem Bau!Kirsten und Hans Joerg Mast

Andre Braga
09:26 28 Mar 21

Birthe Sitter
09:01 28 Mar 21
Sizilien ist eine wunderschöne Insel mit vielen lukrativen Immobilien und interessanten Investionsmöglichkeiten. Dieses Immobilienbüro bietet eine gute, seriöse Betreuung, realistische und gut messbare Preise für die Objekte. Hervorragende Beratung und sehr gute Deutschkenntnise!

Britta Bohn
11:30 21 Mar 21
Sizilien ist seit über 20 Jahren "meine Insel". Besonders im Winter fülle ich dort meine Akkus und genieße die milden Temperaturen und die blühende Natur. Ausserdem macht es die unglaubliche Freundlichkeit der Sizilianer einem leicht, sich sofort willkommen zu fühlen. Und so wurde der Wunsch, dort mehr Zeit zu verbringen wenn es in Rente geht, immer stärker und ich fing an, von einem eigenen Häuschen zu träumen. Ich habe den Schritt zum Hauskauf lange vorbereitet, denn mir war klar, dass dieses nicht mal eben zu machen ist. Neben der Sprache gibt es eine Menge kleinere und größere Hürden, die man nehmen muss. Wie findet man ein Objekt, führt die Verhandlungen, stellt es auf rechtlich sichere Füße, findet Handwerker. Mein großes Glück war, dass ich über die Ferienwohnungen, die ich für Urlaube gemietet habe, auf Familie Grüssner und Casa in Sicilia getroffen bin, die einen rund um den Immobilienkauf betreuen und wirklich alles regeln, was anfällt. Immer ein offenes Ohr, schnelle Reaktion bei Fragen und möglichen Problemen und superfreundlich. Und vor allem erfolgreich bei der Suche nach meinem neuen Heim! In zwei Jahren geht es für mich endgültig nach Sizilien und ich weiß, dass ich mich auch dann immer an die Grüssners wenden kann, wenn ich Hilfe brauche. Vielen Dank für die tolle Betreuung!

Ulrich Kappes
16:46 07 Mar 21
Hervorragende Begleitung bei Auswahl,Kauf,Notar,Umbau mit kompetenten Team,wir fühlen uns gut aufgehoben und begleitet

Sabine Cimbollek
06:24 07 Mar 21
.... Wer Interesse an Eigentum in Sizilien hat, gibt es nur eine Adresse : Familie Grüssner und ihre Leute! Professionelle und kompetente Unterstützung und Hilfe, wann immer Sie gebraucht werden!!!

Valerio Gruessner
05:32 07 Mar 21

Thomas Gruessner
14:18 02 Mar 21