… five simple steps to buy a house in Sicily
"How do I buy a house in Sicily?" – the question has become increasingly common over the past few years. Many non-Italians (especially from the English-speaking world, Germany, Scandinavia and Russia) have had their eye caught by the emerging opportunities on our island and by media coverage of promotions like towns seeking regeneration who offer 'Houses for a Euro'.
However, buying real estate in Italy may not be what you would expect from your experiences in other countries. Because of the inherent differences, inexperienced buyers should always seek professional advice before signing any agreement in order to avoid unpleasant surprises down the line. We can't stress highly enough the importance of taking time to make sure you understand how the process works, and seeking the counsel of a specialist in Italian law.
We have been doing this job for a long time – and in fact we are ourselves ex-pats who've called Sicily home since 1986. Believe us, we found out the hard way how tricky some of the system can prove to non-Italians. That's why we've collected some of the most important lessons we learned, and developed our 5-step guide.
1 – How to buy a house in Sicily – Step one:  Find your dream property!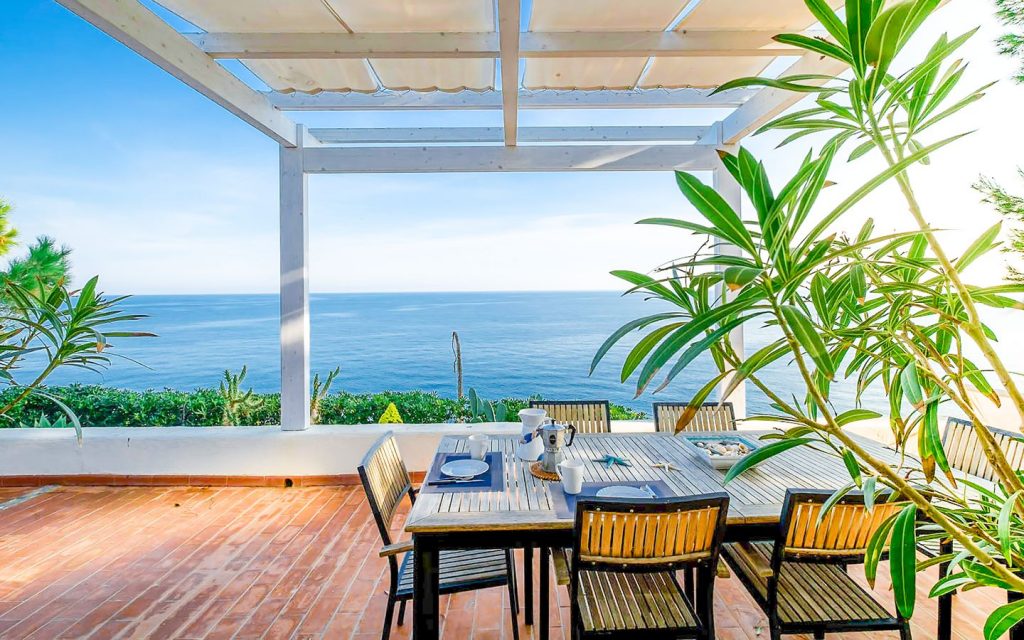 This is the most important part – but fortunately also the most fun! When it comes to buying a property it is important to know what you are looking for. Sicily is still an ideal place to invest your money. However, the region is so big and varied that it can be hard to know where to start looking.  To whittle down your options, ask yourself whether you are looking for a tourist paradise or somewhere untouched by the industry; something on the coast or in the countryside; a village, town or city; a new-build or an historical structure; something ready-to-use or a renovation project; a chic apartment or a timeless villa. Clearly it is also fundamental to know your budget and whether you will need to take out a mortgage.
In order to start your research you can try our easy-to-use Property Search Engine. You can sort by some of the filters mentioned above.
Some people of course prefer to do their own research on other sites and come to us during one of the later steps. We are a family company, which lets us stay super-flexible so don't worry at all – it's never too late in the process to ask for our advice or services.
If you do decide to enlist our support, we would be delighted to help find your dream property in Sicily, negotiate the best possible price, keep the entire process free of unpleasant surprises, handle translations and establish the terms and conditions of the purchase.  In short, we are here for you every step along the way to your purchase in Sicily.
2 – Step two: Negotiating a price!
In any real estate market, there can often be a huge gap between the seller's initial valuation of the property and what the buyer ultimately pays. This is especially true when it comes to buying in Sicily – for example there are many properties which have declined in value in recent years, or owners sentimentally attached to houses which have been in their families for many generations.
So don't be put off by the list prices – in the end a very different figure will emerge! The Tax Office publishes quarterly data on real estate transactions for every municipality in Italy, and we can show you how to use these to great advantage.
We are always very happy to take on the responsibility of negotiating on your behalf, and with our understanding of local culture and ways of thinking, this choice alone you could easily save the cost of our entire service.
Codice Fiscale
One of the most important documents you need in Italy is the Italian Tax Number (Codice Fiscale). It doesn't matter if you want to buy a mobile sim card, open a bank account or if you are thinking about how to buy a house in Sicily, the first step is always the codice fiscale. It's not difficult to get, you simply have to go to the local Agenzia delle Entrate, fill out the form and the job is done. You will get for free a printed version of the Codice Fiscale. After few weeks you will get by mail the final fancy card version.
You can also request an electronic Codice Fiscale from your local Italian Consulate or Embassy, for example in the UK and the US
3 – Step three: Preliminary contract (compromesso or preliminare)
Standard practice for buying a property in Sicily, the preliminary contract is one in which the parties mutually pledge to conclude a purchase agreement for the property at the negotiated terms.
This kind of contract is usually notarized, so special care needs to be given to it. All conditions surrounding the sale are laid out in this contract (including, amongst other things, an exact description of what is being purchased, the parties, purchase price, payment terms and a binding date for the conclusion of the contract).
The preliminary contract is, in fact, the single most important part of any real estate transaction in Sicily. If you're not an Italian speaker we can recommend a translator who can quickly and conveniently translate contracts. Our colleagues in this area are highly experienced and understand perfectly the nature of real estate transactions in Sicily.
4 – Step four: Deposit (caparra)
At the conclusion of the preliminary contract, a mutually-agreed deposit is paid, normally between 20 and 30% of the purchase price. There are different ways in which this can be handled legally.
This deposit may be kept by the seller, should the buyer no longer want to buy the property or finds themselves unable to.
Conversely, if the seller cannot or will not complete the sale, they may be obligated to pay the buyer double the value of this deposit.
Note that before completion of any sale, the seller is legally obliged to obtain a certificate of habitability (Certificato di abitabilità). This document, issued by the local council, certifies that the property complies with Italian health and safety laws and regulations. It is absolutely mandatory, so a notary will only handle a transaction without one in very exceptional cases.
The requisite payment for this agreement is usually completed after both parties have signed the preliminary contract, with only the seller needing to do so in the presence of the notary. In other words, it often happens that the buyer, having agreed with the seller all details of the contract, does not need be physically present in Italy, but can do the job at home and send the signed preliminary contract to the notary by post. The caparra (deposit) can then be easily transferred online.
5 – How to buy a house in Sicily- Final Step: The Purchase Agreement (atto notarile or rogito)
The actual purchase agreement completes what has been agreed in the preliminary contract. It is normally signed before the notary who previously drafted the agreement and analyzed the legal situation of the property. The notary then makes the necessary entries in the property registry.
Upon completion of the purchase agreement, the balance of the purchase price must be paid directly to the seller. As someone buying Sicilian real estate from abroad will often not have an Italian bank account, the notary can use a special account for this purpose. Before the purchase agreement is signed, the buyer can transfer the sum into this account, and then afterwards, by "Assegno Circolare" (a guaranteed cashier's check) this money is forwarded to the seller.
Real Estate Commission / Costs
Real Estate Commissions can vary greatly between agencies in Italy. For instance, Engel & Völkers usually charge 6% on each part (total 12% + VAT). We (Property in Sicily – Casa in Sicilia Real Estate) ask for 3% on each part (total 6% + VAT) with a minimum of € 2000,00 per transaction. Quality standards are regulated by law, so the main difference among agencies is the customer care.
Costs of buying a property in Sicily
Preliminary contract costs (compromesso / preliminare)
Registration costs: The fee is equal to 1.0% of the deposit (this will later be credited to the purchase agreement) + €168.00 registration fees + stamps (€20-40). The choice of notary is up to the buyer. Our trusted notary speaks English and does not charge for this preliminary contract.
Brokerage costs: These will be due in full at the time of the preliminary contract unless otherwise agreed (e.g. half at the preliminary contract, half at the purchase agreement). They will vary depending on the agreement, but as a guideline you should expect to pay 3-4% of the purchase price + VAT (22%).
Purchase agreement (atto notarile / Rogito)
Notary fees: 1.5% of the purchase price + other costs (bollo, tassa archivio, diritti catastali ed ipotecari) totaling about €300-700..
Translation costs for sworn interpreter: about €400-600 (This can be avoided if you have previously discussed as the contract with your lawyer).
Real Property Transfer Tax: calculated on the cadastral/survey value at 2% for a primary residence or 9% on a second home. The cadastral value is usually much lower than the purchase price, but will soon be adjusted. If you want to pay the 2% rate, you will need to become a resident in Italy, in the acquired property, within eighteen months. This residence scheme may have implications for property taxes in your home country – again, we recommend consulting an expert locally to be certain. Fees vary greatly, depending on whether the property is reside in or not, but inhabited property is significantly cheaper.
Real Property Transfer Tax for agricultural land: 15% of purchase price
Brokerage costs: Only if these remain (completely or partially) due at the time of the purchase agreement. They will vary depending on the agreement, but as a guideline you should expect them to be 2-4% of the purchase price + VAT (22%).
EXAMPLE OF COSTS
Property bought for € 100.000 (cadastral value € 50.000)
Case 1 – You make the property your permanent residence
Real Property Transfer Tax + extra Transfer costs: about € 1540,-
Notary costs: about € 1500,-
Real Estate Commission (including VAT): about € 3660,-
TOT: about € 6700,-
Case 2 – You do not transfer your residency to the property
Real Property Transfer Tax + extra Transfer costs: about € 4840,-
Notary costs: about € 1500,-
Real Estate Commission (including VAT): about € 3660,-
TOT: about € 10.000,-
The above mentioned costs are just indicative
Have a look to our article about Tax breaks and subsidies in Sicily