… five simple steps to buy a house in Sicily
"How do I buy a house in Sicily?" – the question has become increasingly common over the past few years. Many non-Italians (especially from the English-speaking world, Germany, Scandinavia and Russia) have had their eye caught by the emerging opportunities on our island and by media coverage of promotions like towns seeking regeneration who offer 'Houses for a Euro'.
However, buying real estate in Italy may not be what you would expect from your experiences in other countries. Because of the inherent differences, inexperienced buyers should always seek professional advice before signing any agreement in order to avoid unpleasant surprises down the line. We can't stress highly enough the importance of taking time to make sure you understand how the process works, and seeking the counsel of a specialist in Italian law.
We have been doing this job for a long time – and in fact we are ourselves ex-pats who've called Sicily home since 1986. Believe us, we found out the hard way how tricky some of the system can prove to non-Italians. That's why we've collected some of the most important lessons we learned, and developed our 5-step guide. And remember also to get informed about the financial consequences of buying a property in Italy !
1 – How to buy a house in Sicily – Step one:  Find your dream property!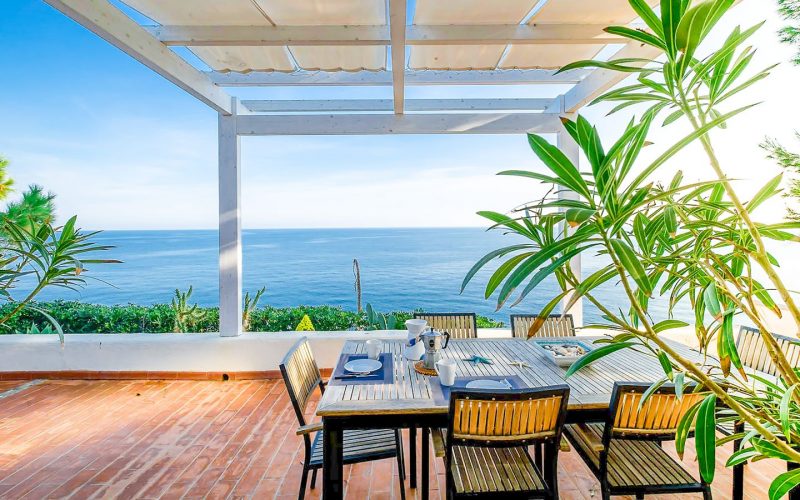 This is the most important part – but fortunately also the most fun! When it comes to buying a property it is important to know what you are looking for. Sicily is still an ideal place to invest your money. However, the region is so big and varied that it can be hard to know where to start looking.  To whittle down your options, ask yourself whether you are looking for a tourist paradise or somewhere untouched by the industry; something on the coast or in the countryside; a village, town or city; a new-build or an historical structure; something ready-to-use or a renovation project; a chic apartment or a timeless villa. Clearly it is also fundamental to know your budget and whether you will need to take out a mortgage.
In order to start your research you can try our easy-to-use Property Search Engine. You can sort by some of the filters mentioned above.
Some people of course prefer to do their own research on other sites and come to us during one of the later steps. We are a family company, which lets us stay super-flexible so don't worry at all – it's never too late in the process to ask for our advice or services.
If you do decide to enlist our support, we would be delighted to help find your dream property in Sicily, negotiate the best possible price, keep the entire process free of unpleasant surprises, handle translations and establish the terms and conditions of the purchase.  In short, we are here for you every step along the way to your purchase in Sicily.
Codice Fiscale
One of the most important documents you need in Italy is the Italian Tax Number (Codice Fiscale). It doesn't matter if you want to buy a mobile sim card, open a bank account or if you are thinking about how to buy a house in Sicily, the first step is always the codice fiscale. It's not difficult to get, you simply have to go to the local Agenzia delle Entrate, fill out the form and the job is done. You will get for free a printed version of the Codice Fiscale. After few weeks you will get by mail the final fancy card version.
You can also request an electronic Codice Fiscale from your local Italian Consulate or Embassy, for example in the UK and the US
2 – Step two: The Purchase Proposal
In close collaboration, Property In Sicily and the buyer will now formulate a purchase proposal, containing any relevant terms and conditions. By this we mean whether the house is sold empty or furnished, the closing date, any modifications to be made or criteria to be met – say for instance the removal of asbestos roofing or planning permission being given for a swimming pool.
Once the seller receives this offer, they have seven days to accept or reject it.
If (fingers crossed!) they accept, the buyer will pay a given amount (usually €10,000) into the dedicated deposit account of Property in Sicily. This is a guarantee to the sellers that the offer is serious. We hold all the money until all the terms and conditions have been met and the notary gives us the 'green light'. At that point we will automatically forward it to the seller.
The Preliminary Contract, or Compromesso/ Preliminare
In certain cases, it may be necessary to draw up what is known as a Compromesso, a form of pre-contract agreement.
We might find these in cases where there is a long lead time to the sale, for example. Where complex conditions need to be met, such as obtaining an amnesty for previous construction work, or a permit to build a terrace or a swimming pool, these can offer valuable protection. We also occasionally recommend them as a solution when the purchase price is relatively high (we're talking around €200,000 and up) and the €10,000 deposit isn't quite enough security.
A quick and easy version of this document can be created, still submitted through a notary but without the need for registration at the tax office. In this case there are almost no fees. If you choose to take the more complex path, with 'strong' registration, you will need to pay a few thousand euros in fees. There is, though, no difference between the validity of the two versions.
3 – Step three: Due Diligence and Surveys
In Italy, the notary who oversees the contracts has far wider influence than their counterparts in the USA or UK. Here, they have the overall legal responsibility for the transaction, and this extends as far as checking that existing mortgages are in order and the building permits and certificates attached to the property.
On the other hand, the notary is not required to conduct a site visit, so discrepancies between the plans and reality need to be flagged by the buyers and their representatives. You would be astonished at how much they can vary in reality, with previous owners adding or enlarging windows, building terraces and in some cases even extra floors!
The day of the deed, the notary will present the property's plans and ask both parties to declare that they conform to the current reality. This is an area in which many of our clients find us of great help. We can check both the property and its building history. Should you wish, we can also engage a technician, who functions like a chartered surveyor in the UK and for a reasonable fee they will provide an 'Urban Conformity Certificate'. In the preparation of this, the technician will visit the property, access all the documents pertaining to the house lodged with the municipal, and finally consult the land registry.
Opening a Bank Account
At this stage you should ask yourself how you want to pay for the property. Italians usually use bank drafts, but this can prove difficult when the money is coming from overseas. For this reason an escrow, or holding account is the most common solution, and here there are two main options. You could use the notary's account (you pay them the money which is then forwarded to the seller) – this will cost up to 1% of the sale. A cheaper alternative is to open your own Italian current account – this is the solution that we use the most. We can help by opening the account on your behalf and sending a high-priority transfer on the day of completion.
In fact, the service of opening a current account is included as part of our "Welcome to Italy" package.
4 – Step four: Power of Attorney
The Power of Attorney (POA) is essential if the buyer isn't yet able to speak Italian. A POA deed can be drawn up by the notary and applies exclusively to the purchase of a named property, at a fixed price and under certain conditions (you're not handing over control of your entire estate!). If you can give us this power we will be able to sign the purchase contract on your behalf, even in your absence.
Once the notary has drawn up the POA we can send it to you by email. You will then have two options – go to an Italian consulate near to you, and sign it in their presence, or use a notary who is local to you. In the latter case, an apostille must be added to validate the deed under international law.
Once signed, you will need to send the signed POA to us by courier, authorising us to act on your behalf throughout the purchase.
5 – How to buy a house in Sicily- Final Step: The Purchase Agreement (atto notarile or rogito)
On the day of completion, the parties (or their representatives, if for instance you have give us your Power of Attorney) meet with the notary who reads the deed. Both parties sign it, and then payment is made to complete the transaction. If we have set up your you have a current account for you, we will call the bank manager ourselves before signing the contract, and authorise the transfer on your behalf.
Once this is completed, the title documents and keys are exchanged. The notary will then need about 3-4 weeks to enter the sale into the archives, at which point you will receive a fully-certified copy of the purchase deed.
Real Estate Commission / Costs
Real Estate Commissions can vary greatly between agencies in Italy. For instance, Engel & Völkers usually charge 6% on each part (total 12% + VAT). We (Property in Sicily – Casa in Sicilia Real Estate) ask for 4% + VAT on each part with a minimum of € 4000,00 per transaction. Quality standards are regulated by law, so the main difference among agencies is the customer care.
Costs of buying a property in Sicily
Purchase agreement (atto notarile / Rogito)
Notary fees: 1.5% of the purchase price + other costs (bollo, tassa archivio, diritti catastali ed ipotecari) totaling about €300-700..
Real Property Transfer Tax: calculated on the cadastral/survey value at 2% for a primary residence or 9% on a second home. The cadastral value is usually much lower than the purchase price, but will soon be adjusted. If you want to pay the 2% rate, you will need to become a resident in Italy, in the acquired property, within eighteen months. This residence scheme may have implications for property taxes in your home country – again, we recommend consulting an expert locally to be certain. Fees vary greatly, depending on whether the property is reside in or not, but inhabited property is significantly cheaper.
Real Property Transfer Tax for agricultural land: 15% of purchase price
Brokerage costs: 4% of purchase price + VAT (22%).
EXAMPLE OF COSTS
Property bought for € 100.000 (cadastral value € 50.000)
Case 1 – You make the property your permanent residence
Real Property Transfer Tax + extra Transfer costs: about € 1540,-
Notary costs: about € 1500,-
Real Estate Commission (including VAT): about € 4880,-
TOT: about € 7900,-
Case 2 – You do not transfer your residency to the property
Real Property Transfer Tax + extra Transfer costs: about € 4840,-
Notary costs: about € 1500,-
Real Estate Commission (including VAT): about € 4880,-
TOT: about € 11.200,-
The above mentioned costs are just indicative
Have a look to our article about Tax breaks and subsidies in Sicily