Property Description
Casa Candeloro: Apartment Odile – Beautifully Renovated Beach Apartment in Cefalù's Historic Old Town
If you arrived at this property listing via Property In homepage, you can't have failed to notice the spectacular image that greets you at the top of the site. Taken from the summit of Cefalù's iconic 'Rocca' hill, the sunny warmth practically radiates from your screen as the deep blue sea washes right up to the warren of terracotta rooftops.
Housed within the characterful Casa Candeloro palazzo building, Apartment Odile is an incredible opportunity to buy an apartment right in the middle of this photograph! Just to the right of centre, in the penultimate row of houses before the sea, this gorgeous location is virtually priceless.
With a sea view balcony and a long terrace overlooking the Cathedral and Rocca, the cosy one-bedroom apartment has been entirely refurbished over the past year, and is now finished to an immaculate standard. With the sea breeze drifting through the full length windows and the busiest parts of Cefalù's old town tucked away around the other side of a the Duomo and its beautiful ornamental garden, this is a peaceful and sunny corner of the Mediterranean waiting only to be furnished.
If you are thinking of buying real estate in one of Sicily's strongest property markets, Apartment Odile may be the purchase for you.
The Property
This airy, top floor beach apartment in Cefalù is divided into two primary spaces – a bedroom and a kitchen-living room. This latter has a dual aspect, onto the long thin terrace and the box balcony that offers a magical sea view. The bedroom also connects to the terrace. The bathroom has a walk-in shower with dual head.
With a simple floor plan augmented with alcoves that would make perfect fixed cupboards, Apartment Odile makes intelligent use of its 46m2 of total internal space. While a sofa bed would allow it to sleep four, at a push, it has room for everything you could need in a base for sunny getaways or a year-round home for one.
While the building in which it stands is an historic one, blending perfectly into the medieval surroundings of this love-at-first-sight beach town, Apartment Odile has been remodelled with absolutely no effort or expense spared.
Energy efficiency has been made a priority, with a double ceiling installed, thermal cladding added on three sides and double-glazed, solid wooden windows. Whether you choose to regulate the temperature of your new beach apartment in Cefalù with radiators or air conditioning (and it's ready for both), you'll be guaranteed to receive the best possible value for your energy spending.
The quality is under your feet and above your head, with a fine parquet flooring and newly refinished roof. The plumbing and electrical fittings are all brand new, and the latter has been designed for efficiency and convenience. Almost all of the lights and devices are wired in parallel, not sequence, which means that you can control and isolate everything from the main lighting to the wine fridge. It is ready for either cable or Starlink internet.
Out on the south-facing terrace, the tiles underfoot are sourced from the well-known local artisans Cotto Meli of Collesano, who make them traditionally, by hand.
Surroundings
Founded over a thousand years ago, on a beautiful promontory flanked by a two kilometre strip of pristine golden sand. Whether you are a lover of history, good food, Sicilian culture or simply beautiful seafront landscapes, you will find something to treasure within its historic confines.
The cathedral overlooked by Apartment Odile's terrace is a UNESCO World Heritage site, protected for its unique fusion of Arabic and Norman architecture. The winding streets and hidden little piazzas of the Medieval old town radiate character and the local population, while obviously influenced by a century of popularity as a tourist resort, has remained predominantly local, preserving the traditional Sicilian character of a traditional community.
Just a street removed from the seafront, on the rocky coastline to the town's north, Casa Candeloro and its twin apartments (Casa Odile's sister property, Apartment Céline, is also available for sale by Property in Sicily) are literally a stone's throw from the warm waters of the Tyrrhenian Sea.
While vehicle access to the old town of Cefalù is carefully restricted, the fortunate buyer will be entitled to a permit to enter the limited traffic zone ('ZTL').  There is plenty of parking less than a hundred metres away from your front door.
To the South rise the picturesque hills of the Madonie Natural Park, dotted with beautiful driving routes and trails, and home to some magical Norman towns and villages. The biggest city in Sicily is Palermo, where you will find five star dining around the corner from traditional street food. The famous opera house dominates the central piazza of the town, and the city's football team have a passionate and dedicated band of supporters. Palermo can be reached in an hour, by road or train.
Elsewhere, within an easy day's outing, the volcanic islands of the Aeolian archipelago are visible from the coast of Cefalù.
Potential
While this beach apartment in Cefalù is not by any means a cut-price, one Euro Sicilian home, it still represents great value as a way to purchase a ready-made modern property in an ancient town. You are guaranteed to avoid any of the pitfalls and surprises that can come up when you renovate a property in Sicily. Sadly, while there are innumerable beautiful experiences to be savoured on this beautiful island, the bureaucracy involved in restoration work isn't one we'd put at the top of the list!
We are also able to offer an exclusive deal on this property, where we have agreed to waive our agency commission. This represents a tremendous saving of €15,000.
While there isn't a lick of work to do on the apartment, except adding your own touch in the form of furniture and kitchen fittings, you will obviously be alive to the property's immense potential as a vacation rental. If you're not planning to relocate to Sicily full time, you'll be interested to know that apartments of this size and position are snapped up at rates of over €1,000 per week in high season, and even in winter can command €2,000 per month.
If you're interested in exploring the rental market as a guest house operator, our sister company Solemar Sicily is on hand to help with everything from advertising to managing check-ins and even cleaning services. You can take a look at our full range of after-sale support services here.
Drone Shot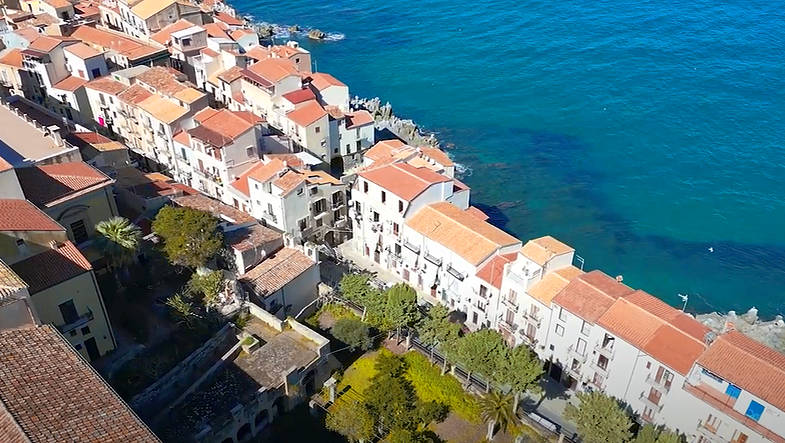 Address: Via Candeloro n. 55
Zip: 90015
Country: Italy
Property Id: 4681
Price: € 290,000
Property Size: 46 m2
Rooms: 3
Bedrooms: 1
Bathrooms: 1
CITY
COASTAL
ready to use
sea view
terrace