Property Description
Huge and Beautifully-renovated Historic City Apartment in Sicily's Vibrant Heart, Palermo
Appartamento Buonpastore is a second floor apartment housed within the beautiful seventeenth-century Palazzo Buonpastore, right at the heart of Palermo's fashionable Kalsa district. A split-level condo with three bedrooms and three bathrooms, it has only just finished a full renovation and is presented in perfect condition.
A rare chance to buy a slice of authentic Sicilian history without sacrificing the slightest comfort, Appartamento Buonpastore is an exclusive property in a fabulous location. You won't believe the amazing bonus under the upstairs roof, either! This lovely city apartment in Sicily's most complex and effervescent city is going to make the right buyer happy for life.
The Property
Palazzo Buonpastore has a vast, magnificently ceremonial doorway, with the huge original hardwood converted to accomodate a more practical modern entrance. This leads you into a wide communal atrium with marble decoration and staircases leading up to the left and right. The former of these leads you up over some beautifully-patterned steps and landings until you reach the door of the apartment.
There is also an elevator, although this does not provide truly step-free access, delivering you instead to a mezzanine from which a twin entrance is reached down ten wide stairs.
Both doors bring you into the same room, a long, bright space, at one end of which is a tall window and a balcony. Envisaged as a living room-diner, there is ample space here for both a cosy relaxation area and a large table and chairs.
A corridor leads past the first bedroom, with another balcony opening (like the living room's) onto the quiet, narrow street onto which the palazzo backs. Beyond this we come to a kitchen with a bathroom, and another corridor leading to a bedroom, with another bathroom. Each of these is fitted with a shower. The floor plan of what is a storied building is a complex but unique one, and the natural light which enters the kitchen does so down a little passageway with a window at the end.
Two staircases lead up to discrete areas on the upper floor. From the kitchen there is a heavy iron open staircase that gives an industrial note to this characterful space. The noise you hear when you strike it with a knuckle is one of the more minor satisfactions of the apartment, but unmistakably enjoyable! At the top of this is an attic storeroom.
The other staircase is enclosed, finished in marble and winding up to the last bathroom and bedroom. As you make your way up to the little landing which connects them, your eye is immediately caught by the sensational decoration on the exposed ceiling beams. The yellows and blues of this original decoration, painted directly onto the hardwood, have been impeccably revived during the recent restoration, under the supervision of leading authorities specialising in the recovery of such centuries-old treasures. We can say with total confidence that the unique and characterful nature of this decoration could not be replicated by any contemporary hand. Details like this are what every buyer dreams of finding when they look for a city apartment in Sicily.
The bedroom has only a small porthole window, but an ingenious lightbox offers a source of sunshine reflecting up from the room below, like some sparkling treasure chest on the floor. The bathroom, again, is fitted with a shower.
All of the rooms are equipped both with radiators and air conditioning units, allowing you to perfectly control your living conditions even on the city's most humid summer afternoon or coolest winter evening. The immense thick masonry of the palazzo's walls does more than its fair share of work in this regard, too.
The floors are parquet throughout, and the walls a smooth neutral plaster, save for the bathrooms, where you will find marble on both the floor and walls. On the lower level the exposed ceiling beams add a sturdy note of timeless character, and upstairs the intricate decorations are an absolute treat about which we hardly need say more. The windows and shutters are also wooden, and the latter give the place a complete blackout when needed. Outside, the balconies are in marble with wrought-iron railings which interlock, rather than being welded – a sure sign of antiquity, timeless craftsmanship and class..
The property is protected by a video entry system, motion sensors in every room, and a pair of reinforced doors.
Surroundings
Palermo is Italy's fifth largest city, home to over a million people, and over the past thirty years the changes it has undergone have been nothing short of astonishing. Dragged from the notoriety of its twentieth century past by some savvy leadership and the will of a determined population, it is now a thriving and increasingly international city.
There is more to Palermo than we can do justice to in this short space, but you can find out all about its lasagne-layered past, thriving arts and culinary scenes, and many of its best-loved attractions in our comprehensive guide to the city.
The Kalsa district is home to some of Palermo's nicest parks, including the seafront Foro Italco, the ornate formal gardens of the Villa Giulia, and the leafy Piazza Marina, home to Europe's largest tree, and, on Sunday mornings, a wonderfully atmospheric flea market. It is also home of some of the most popular spots for street food and night life.
Directly outside the palazzo Buonpastore lies Piazza Aragona, home to a colourful array of craft shops, many affiliated with a local union of artists. Along Via Alloro is the community-run 'garden of justice' and the city's modern art gallery is a stone's throw in the other direction. The entire district is teeming with independently-run bars and restaurants, beautiful little piazzas and plenty of greenery. Not for nothing is is regarded as the most sought-after post code in Palermo.
As a resident of the city's restricted traffic zone (ZTL), you will have the right to apply for the permit that lets you bring your vehicle into this historic district. Parking can be tricky to find but some underground garages offer yearly subscriptions, and even if you end up leaving the car further afield the advantages of being able to drop off people and shopping directly to the front door are obvious. As an added bonus, the scheme means that traffic is kept to an absolute minimum in this part of town, so getting around by foot is pleasant experience and the noise from the street outside is certainly reduced.
Potential
With a complete renovation in its very recent past, there is almost no work whatsoever to be done on Appartamento Buonpastore, other than the fact that the kitchen still needs to be installed. Of course, you may wish to add some decorative touches, but we prefer to see this as an opportunity, however, letting you put your own personal stamp on the style of a timeless apartment.
There is the legacy of a little moisture damage on the wall of the living room, but this problem has been addressed at source and now all that is needed is a finishing coat of paint.
If you do have in in mind to do some extra work on this lovely city apartment in Sicily, we would be very happy to put you in touch with our extensive network of professionals and tradespeople, from lawyers and architects to builders and decorators.
Otherwise, the size of the apartment, its central location and the presence of technology to both heat and cool it make it a perfect solution for a year-round relocation to Sicily.
If the thought tempts you but you have cold feet at the idea of starting anew in a new country and culture, why not sign up for our increasingly popular Welcome to Sicily package? Take the logistical stress out of your move as we will deal with all the admin, from securing your residency in Palermo to opening you a current account and even getting you connected for utilities and a mobile phone SIM.
We can also help you make the most of the plethora of tax breaks and subsidies available for buyers willing to make Italy their country of residence. We guarantee that you'll be astonished by what you could save doing this, especially in the first five years.
Drone Shot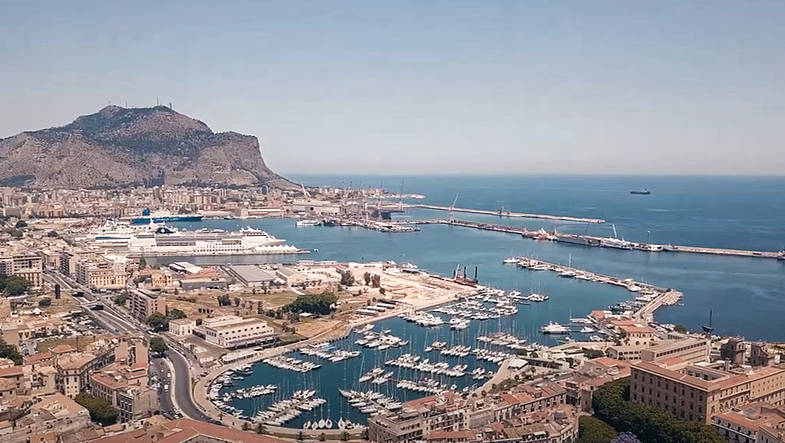 Address: Via dell'alloro
Zip: 90133
Country: Italy
Property Id: 3742
Price: € 500,000
Property Size: 217 m2
Rooms: 10
Bedrooms: 3
Bathrooms: 3
CITY
COASTAL
ready to use
gas heating