Property Description
Huge Palermo loft apartment with magnificent open space and beautiful restored ceilings
Dominated by the epic, almost banqueting-hall style open space which makes it both modern and timeless, Balarm Loft Apartment is a wonderful example of the kind of sensitive contemporary restoration work that's giving a new and vibrant lease of life to so much of Palermo.
Under the care and supervision of the celebrated local architect Giuseppe Caronia, this seventeenth century gem in the heart of Palermo's bohemian La Kalsa district has been given a complete overhaul, from it's vaulted lobby and marble staircases to the prestige living spaces opening off them. No expense has been spared in order to seamlessly blend the spirit of the original with the creature comforts of a modern home.
Enormous windows guarantee airy brightness and the unmissable, ornate double-height ceiling acts as both a signature and certificate of authenticity for this intensely special two bedroom residence. You will never grow tired of the astonished reaction on your guests' faces as they step over the threshold of Balarm Loft Apartment.
The Property
More than half of the huge Palermo loft apartment is taken up by the vast open living space from which it takes its name. This is true in more ways than one, as the New York loft-style architecture is only part of the story.
Balarm is the name given to Palermo by the Arabian settlers who occupied it from the ninth century. They brought innovations which were to forever alter the course of Sicily's culture… new foods, language and decorative style. These were to endure long after the Normans arrived to herald the next chapter, continuing to influence Palermitano design to the present day. Or more pertinently, in this case, a couple of generations ago. For this is the style of the beautiful painted decorations on the cross-beams which support the newer wooden ceiling… an intricate floral motif in gentle reds and greens which was restored only with the painstaking intervention of local artisans and even academic specialists.
If you're looking for something truly unique and priceless, to really set your new Sicilian home apart from anything you could find further north on the continent, this is truly it. While the roomy layout, enviable location and towering windows are all undeniably rare, they can be found elsewhere in the city or world. This roof is a piece of living history, almost priceless in its quietly stately fashion.
To describe the room in slightly more prosaic terms, it measures almost a hundred square metres, under the 7 metre ceiling. It is partially split into a pair of levels in two areas – a glass-floored mezzanine above your head as you walk through the doorway, held up by a postmodern iron structure that includes the staircase. At the other end a partial division shields the kitchen area and also holds an anteroom leading to a bathroom. This little alcove is roofed in with another mezzanine, this time a solid structure, which is not currently connected to the room below but could support use for storage, decoration or even living space with the addition of a staircase.
Elsewhere on the ground floor, a small corridor connects a spacious double bedroom and an en-suite bathroom with a shower. Upstairs, off the glass landing, is the twin of this, another double bedroom, bathroom and storage space. The lower of these bedrooms enjoys a balcony out onto the quiet street below, as do each of the giant double windows in the open living space.
Finishings are all of the highest quality, as you would expect from such a recent remodelling. The floor is in parquet and the bathrooms are marbled, with plenty of space and high-quality fixtures.
Security need never be a concern, thanks to a combination of a video entry system, motion sensitive alarm system with sensors in every room, and sturdy reinforced doors.
Surroundings
Palermo is Italy's fifth city, a vast trading outpost in the middle of the Tyrrhenian Sea, and home to an exotic array of travellers and settlers for many thousands of years. If you can think of a great Mediterranean civilisation, they've been here, left their layer of influence in Sicily's cultural rock strata, and in due course been usurped by the next arrivals. Even today, the central areas are noticeable more diverse than more or less anywhere in Italy, newcomers making their homes alongside families who've lived here for countless generations. As the city's mayor recently put it, "Whoever comes to Palermo is a Palermitano"!
Take a look at our deep dive into Palermo's history and culture.
The Palazzo Buonpastore stands on Piazza Aragona, where a  raft of bright and popular shops are mostly run by a neighbourhood trade collective. Around the corner are some of the city's most popular bars, from the decadent cocktails at Farmacia Alcolica to the brewed-on-site craft ales at Ballarak. You will not be left wanting for something to eat, either, with Buatta Cucina Popolana a well-loved local dining option and Cioccolateria Lorenzo a cute cake shop perfect for lazy Sunday mornings. You'll love the green spaces, from the flea market around Piazza Marina to the open coastal park of the Foro Italco.
The address of this huge Palermo loft apartment will secure you access to the old town centre's restricted traffic zone (ZTL). This is an invaluable asset for getting around out of town, although much of the city is also navigable on foot. The scheme has also dramatically reduced the area's passing traffic, locking in the authentic local vibe.
Potential
Thanks to the sparkling restoration work, the only finishing touches needed to complete Balarm Loft Apartment are the installation of a kitchen, decoration and furnishing. If you would like some inspiration on how best to take advantage of the huge open space, or there are any changes you would like to make to the property, please talk through your ideas with our friendly international team. We would love the chance to introduce you to some of the tried and tested professionals with whom we've collaborated on other projects, whether you need designs, decoration or construction teams.
We believe that the fabulous central location of Balarm Loft Apartment, the awesome central space and the fact that you can completely control the temperature gives it unlimited potential for a young professional or couple who want to relocate to Sicily. The range of tax breaks and subsidies created to entice new residents to the island can also be a game-changer in this regard.
Perhaps you're worried about the notorious Italian bureaucracy? Honestly, we wouldn't blame you. More and more of our clients are opting to sign up for the Welcome to Sicily package we offer to smooth the transition. Let our experienced staff take care of all the paperwork, from transferring your residency to Palermo to getting bank accounts up and running. You only need to relax and enjoy your huge Palermo loft apartment. We can even offer you a course of lessons at our sister business, the boutique language school Solemar Academy.
Drone Shot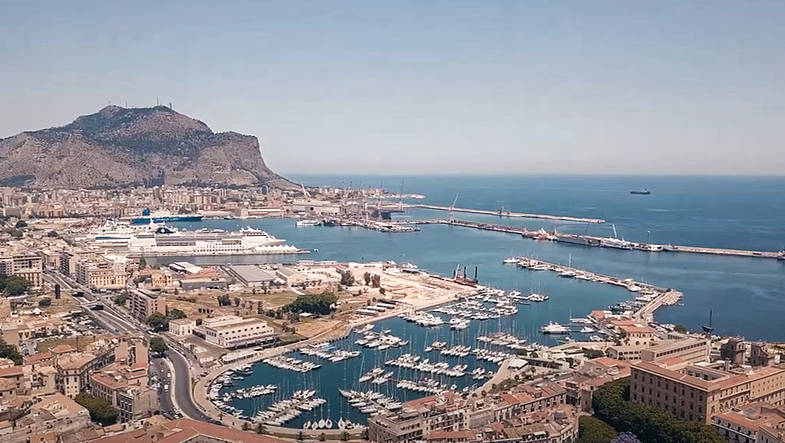 Address: Via Paternostro
Zip: 90133
Country: Italy
Property Id: 3791
Price: € 500,000
Property Size: 216 m2
Rooms: 11
Bedrooms: 2
Bathrooms: 3
CITY
COASTAL
ready to use
gas heating