Property Description
Amazing Bargain! Four Apartments, Stunning Views!
Standing on the edge of the hilltop village of Pollina in Sicily's glorious Madonie National Park, Casa Salvina is a 1970s building, in good condition, that is actually four separate apartments and two large storage spaces. With a price tag that offers almost unbelievable value per square metre, this will prove the perfect investment for a group of friends, extended family or someone looking to run a little holiday home. Four apartments, stunning views – what more could you imagine for this price?
Most of the buildings in this close-knit community are hundreds of years older than Casa Salvina, and the tight streets of the old town wind their way between historic architecture and quaint, charming little piazzas. Time seems to stand still here – the peace and quiet interrupted only by the toll of the church bell, the call of the fruit and veg seller who brings his small motorised cart into the nooks and crannies that larger vehicles can't navigate, or the chatter of locals passing the time of day.
The road on which Salvina stands, however, was added to the town in the 60s and 70s in order to offer a tiny bit of room for expansion. This means that the buildings here are in a noticeably better-maintained condition, and access is considerably easier than it is further towards the centre.
If you're concerned about the possibility of any further expansion, be aware of two things. The Madonie Park is now protected land, under the covenant of the national parks authority, and development is almost impossible. On an even more practical level, the hillside that drops down to the Tyrrhenian Sea below is so precipitous and starts so immediately after Casa Salvina that you'd have to build a new hill if you wanted to interrupt these views with another roof!
With all that in mind, Casa Salvina is a truly enticing prospect for a first-time buyer in Sicily that certainly won't stay on the market long. So keep reading to discover more!
The Property
Each of the four independent apartments* that make up the house measures 60-70m2 and include a bedroom, fitted kitchen, living area and bathroom. In addition there are two storage spaces of around 30m2 apiece. There are balconies at every level, to the front and rear of the property.
The front view is not especially remarkable, of the quiet street on which Casa Salvina stands. The view at the rear, however, is something quite different, and really special.
With a 180° view stretching across miles of unspoilt hillside and even taking in a portion of the sea beneath you to your left hand side, this is an absolutely unbeatable feature of the house that will make for the perfect instagram snaps – or publicity materials if you want to operate the apartments commercially.
Each apartment has its own character: The bathrooms are fitted with a mixture of walk-in showers and tubs (with shower attachments). Some have open-plan kitchen-diners, whilst others are combined. All, however, offer the same fabulous view from the double-bedrooms.
The furniture and fittings currently in place are practical and comfortable, such that you could move in tomorrow if you wanted to negotiate them into your offer for the house. We think that the present owners, who are very friendly and available to answer all questions, would be amenable to making a deal like this, and it would certainly save you time and effort with the move.
Of course, if you are planning to relocate permanently to Sicily, you may prefer to bring your own furniture – if that's the case we'd be happy to give you advice on the logistics of the journey.
*please be aware that for logistical reasons it was only possible to include three in the video above, but footage of the final one is available on request.
Surroundings
Pollina, one of the most beautiful villages in Sicily, stands on the very top of a hill around 700m above sea level but just three kilometres inland. The steep ascent means that the whole town enjoys peace, quiet and fresh air. And of course, from each of Casa Salvina's four apartments, stunning views.
As we mentioned, Pollina itself is an historic little town, dating back in the present form to the middle ages. First recorded in 1082, it actually stands near the ancient Greek settlement by the name of Apollonia. If the presence of Greeks on this Italian island surprises you, take a look at our short introduction to Sicily – our homeland's dizzying past reads like a Who's Who of dominant European powers!
Looks can be very slightly deceiving, mind. Beneath the timeless facade of Pollina's Mediterranean charm there's a surprisingly (and impressively!) modern infrastructure. A very forward-thinking local authority has installed fibre-optic broadband throughout the town, and the smart recycling system recognises the identity of residents who make correct use of it, and rewards them in the form of discounts on their council tax bills!
You may also be surprised at the way this ostensibly-traditional town blends a local community who have long and deep roots in the municipality, with a growing array of recent international arrivals. We have been, in some small way, a part of this story, as we chose Pollina as our top Sicilian investment pick for 2019, and have since helped a half dozen families purchase and renovate property in this magical and enticing spot.
The beautiful and varied hills of the Madonie are home to a wide variety of flora and fauna, including several protected species. Birds of prey, roe deer and wild boar are regularly spotted in the area, and you could walk a different footpath through everything from olive groves to deciduous forest every day for a year. The highest peaks of this mountainous region even offer a rather unexpected ski slope in the short Sicilian winter!
Of course, down at sea level you will find a completely different picture, with mile after mile of unspoilt coastline interrupted only by charming fishing villages and small towns. The internationally-famous resort of Cefalú, with its top quality restaurants, two kilometre strip of pristine sand and UNESCO World Heritage Site cathedral, is just a half hour away by car.
Pollina itself has a couple of small supermarkets, bars and restaurants, a medical surgery and naturally a great pizzeria! The real attraction of the town – besides its magnificent panoramas – is a beautiful outdoor amphitheatre with a spectacular natural backdrop, which plays host to a varied programme of performances for all ages throughout the warm months.
The nearest airport is 90 minutes' drive away in the island's capital city, Palermo.
Potential
There is very little work that needs to be done on Casa Salvina, which is in good condition structurally and cosmetically. One area of which you should be aware is the ceiling on the upper floor – the exterior of the roof is a recent installation and in good condition, but some work will be needed to finish it internally. As ever, we would be happy to introduce you to our network of trusted and reliable tradespeople working in the area.
Of course, there is room for superficial improvements if you would like to invest in the kitchens, bathrooms and so forth – there always will be – but overall Casa Salvina is in great shape, and ready to go straight away. You could even start to receive guests over the winter. Escape to Sicily… your choice of four apartments, stunning views from each… the marketing writes itself.
You may have heard some scary stories about property built in the 60s and 70s in Sicily, and it is sadly true that our island saw more than its share of unauthorised construction. However, with Casa Salvina you can rest easy – all of the paperwork is in perfect order.
If you would like any assistance with any elements of the move South, take a look at our extensive range of services, which includes a Welcome to Italy package that will sort problems from registering your new residence to finding a good value SIM card for your phone! If you are interest in Casa Salvina's potential as a  tourist property, but aren't planning to live here year-round, our sister company Solemar Sicilia has decades of experience promoting and managing vacation rentals on the island, and a varied and loyal client base.
Whatever potential you see in Casa Salvina, talk to us today. We'd be delighted to help you start to realise it!
Virtual Tour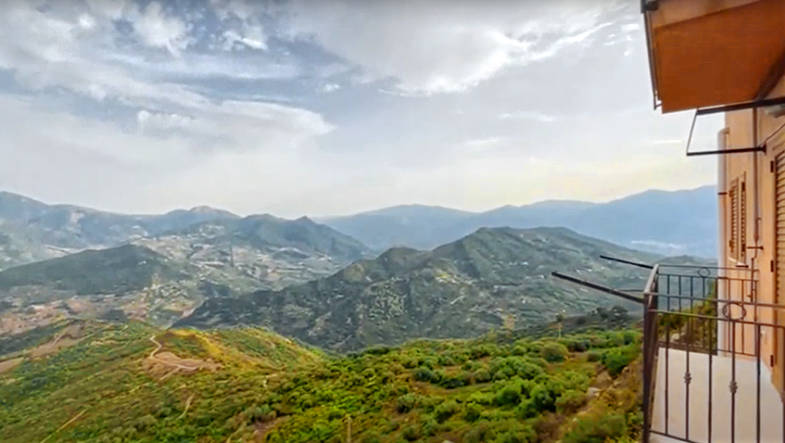 Property Id: 3018
Price: € 105,000
Property Size: 280 m2
Property Lot Size: 340 m2
Rooms: 16
Bedrooms: 4
Bathrooms: 4
CITY
COASTAL
furnished
ready to use
sea view
terrace