Property Description
Two-bedroom, Sea-view House in Cefalù's Green Hills
Completed in 1974, Chalet Presti is a large family home originally designed for summer use but now very comfortable as a year-round home. It is built on two and a half stories, although the angle of the terrain and use of the eaves as a loft space mean that seen from above it appears to be a bungalow. On the lowest level is a large garage or storeroom, outside which a large flat terrace offers outdoor parking overlooking the hillside and Tyrrhenian sea.
The house is about 500m above sea level, with a wonderful panorama and refreshing breezes. This is one of the most popular districts for holiday homes, outside of Cefalù's confined city centre. As we discussed in our deep dive into the Cefalù real estate market, this is a more cost-effective and in many ways more practical way to get on the property ladder in one of Sicily's five star post codes.
With significant tax breaks on offer for retirees and new working residents alike, there has never been a better time to consider a relocation to the sun. Read on to find out what this spacious villa has to offer.
The Property
Upstairs on the top level is a vast open-plan living room, with a mezzanine gallery that offers some of the property's best views. Comfortably above the treeline, you can clearly see over the lower peaks of the Madonie to a long stretch of coastline below.
Off the central, high-ceilinged open space  a corridor runs down to a comfortable family kitchen with fitted cupboards and a wood-burning stove. In the other direction are found a pair of bedrooms with twin bathrooms. One of these is a smaller guest room, but the master shares almost the same view as the mezzanine above. Outside, a broad terrace wraps around the whole property.
The floors throughout are wooden, as are the exposed timbers of the roof – in fact, little has been altered in this property besides a portion of the downstairs facade. The shutters and internal doors are in the same light wood that has been used for construction, giving the home its distinctive chalet feel. The total indoor area is a very sizable 240m2.
It is heated by a pair of fireplaces and a gas boiler with radiators. Air conditioning units have been installed to deal with the heat and humidity of the Mediterranean summer. The property is not currently connected to the main water supply. However its immediate neighbours are served by the civic main, meaning that an eventual connection would be easy to achieve. However, a trio of water cisterns hold a total of 130,000 litres of rainwater, and this has proven more than sufficient for the current owners over the years.
Outside, the estate of this sea-view house in Cefalù spreads over 5500m2 of gently-sloping hillside, filled with a mixture of trees, chiefly corks, oaks and pines. The thick vegetation delivers both peace and privacy in abundance. In the immediate surroundings of the house are an outdoor kitchen, including a fixed barbecue and pizza oven. A broad access road winds through the estate, down past the house to the parking area. The whole perimeter is fenced.
Surroundings
If one of the keys to savvy property investment is to surround yourself with good neighbours, Chalet Presti is a golden ticket. The nearby homes are mostly summer residences for affluent residents of the island's nearby capital Palermo. Just across the street is a superb property belonging to the family of the celebrated flautist and conductor Vincenzo Maria Pintorno.
Down at sea level, just fifteen minutes' drive down a well-maintained if slightly windy road, you find yourself transported back in time in the historic and UNESCO-protected old town of Cefalù. It's narrow cobbled streets link picture-perfect piazzas and the nautical, ceramic and culinary traditions of this beautiful community are still in abundant evidence. From the old fishermen mending their nets by hands on their front porches to the typical local street food sold from kiosks and restaurants alike, the fundamental essence of the city has remained untouched for centuries, as has its spectacular Arab-Norman cathedral.
The two kilometres of pristine golden sand which flank the long promenade, and the sensational views from the top of the unmistakable rocky outcrop which gives Cefalù its distinctive silhouette are natural wonders to match the region's cultural treasures. So too is the huge stretch of undeveloped coastline extending in either direction, where brisk offshore breezes draw in lovers of watersports of all kinds. Further inland lie the numerous idyllic villages of the Madonie Natural Park, nestled in the hills which play home to a dazzling array of wildlife and natural beauty.
The vibrant metropolis of Palermo, Italy's fifth-largest city, is just an hour away by rail or car. All of Sicily's tourist treasures can be reached within a comfortable day trip.
Potential
Ready to be moved into immediately, Chalet Presti needs no essential work doing in the immediate term. Of course, there is always room to update a home of this age. To make such a sea-view house in Cefalù comfortable all year round and keep those energy bills down, we'd recommend installing double glazing – with the help of Italy's incredible subsidies for sustainable home improvements in 2022. It would also pay dividends in the long run to find an electrician to take a look at some of the property's wiring. After having lived and worked in the area for decades, we have some fantastic recommendations, and would be delighted to make the introductions.
We spoke to a local architect about the potential for more ambitious redevelopment work. They suggested that a buyer with the means to take on a medium-sized project could create an extra pair of bedrooms to increase the sleeping capacity. We'd also note that the large storage space could be used much more efficiently. And of course, the definitive cherry on top of the cake of any sea view holiday home in Sicily would be a private swimming pool, which could certainly be built in front of the house.
The project management team at Property in Sicily will be on hand to help the eventual purchaser with any scale of work, from recommending specialists and taking care of permits to a full scale of renovation project.
Even in an undeveloped state, considering that real estate prices in Cefalù typically fall between €3,000 and €5,000 per m2, this is a very good price. Coming in at just a little over €2,400, we think there may even be space for a little negotiation.
Get in touch with our friendly international team today with any questions or ideas you may have about  Chalet Presti.
Drone Shot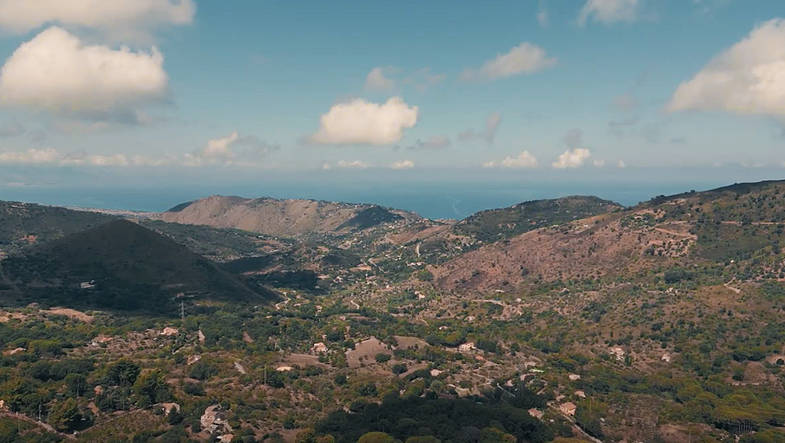 Address: Contrada Presti
Zip: 90015
Country: Italy
Property Id: 3605
Price: € 490,000
Property Size: 240 m2
Property Lot Size: 5,500 m2
Rooms: 7
Bedrooms: 4
Bathrooms: 2
COUNTRYSIDE
COASTAL
furnished
gas heating
sea view
garden
surrounding land
terrace
garage
development potential