Property Description
Sea-view Villa in Sicily with a Quartet of Independent Apartments
Standing at the western edge of the municipality of Tusa, in the heart of Sicily's north coast and directly on the sea, Villa Tusa Mare is a very rare opportunity to buy Sicilian property directly on the sea.
The large property is to be slightly reconfigured from the video shown above, with the outbuildings set for removal over the coming months. The price has been dramatically reduced to reflect the changes, making this an even better value for money proposition.
As you can see from our video footage, this beautiful villa has been built just 40m from the turquoise waters of the Tyrrhenian, with a view that's broken only by a line of pine and eucalyptus trees that offer shade to the house's lovely green garden. In a  spacious 3400m2 plot it is a jewel, on a pristine stretch of coastline that boasts North Sicily's only blue flag beach.
Italy's coastline is subjected to some extraordinarily stringent construction regulations, and the land around this huge family villa is covenanted in perpetuity, guaranteeing that it will never be developed. That makes Tusa Mare a truly exciting asset that would make the perfect holiday home for even the largest of families.
As an alternative, the division of the space into two self-contained units, each with its own kitchen, gives Villa Tusa Mare obvious potential as a guest house, making it an attractive investment for a couple looking to relocate to Sicily on a full-time basis with their own source of income in situ. As you will have noticed, the images of this sea-view villa in Sicily are dripping with enticing Mediterranean charm.
The Property
From street level, Villa Tusa Mare appears to be a bungalow, but in fact its quartet of independent apartments stretch downwards towards sea level, following the natural gradient of the land.
The larger upper unit consists of a pair of sea-view bedrooms, a large L-shaped living room, a kitchen, two bathrooms. There is a long balcony to the north, facing the sea, and a neat terrace extending out to the east of the building. From the balcony, not only is the sea spread out in front of you, but the volcanic archipelago of the Aeolian Islands is visible on a clear day.
Underneath this, a second fully independent flat offers a bedroom with an en-suite, as well as a kitchen-cum-living room. All of these open onto a covered terrace beneath the balcony of the upper floor, and connect directly with the lawn just above sea level.
Outside, the garden is irrigated and filled with a range of neatly-cultivated Mediterranean shrubbery. Although there is not a direct beach access from the house – a previous staircase was sadly destroyed by a storm – the walking route is just a short loop, and we're sure you'll agree that to be more than worth the villa's sensational position. To be clear – this is as close as you'll get to a private beach for your sea-view villa in Sicily.
Almost every room on the property is fitted with air conditioning units. The estate is connected to the municipal drainage system and to the main water supply, although it also benefits from drinking water flowing directly from its own private spring. It has recently been fitted with 6kw photostatic panels, guaranteeing low bills and a modest carbon footprint. The high speed internet connection already in place delivers an excellent 160mbps.
Surroundings
Villa Tusa Mare stands three kilometres outside the scenic seaside resort of Castel di Tusa, home to a fabulous seafront with restaurants and cafes. A little up in the hills is the town of Tusa itself, a community of around 4,000.
The little region actually has a big personality, having achieved some prestige as a hub for the visual arts. The Art Hotel "Atelier sul Mare" has a dual life as guest house and art gallery, with a range of internationally-recognised figures from the contemporary art world having individually created twenty of their fabulous rooms. Outside the town, the spectacular Fiumara d'Arte sculpture park extends across a swathe of the neighbouring hillside, with giant installations overlooking the town and sea proving a memorable match for their spectacular natural backdrop.
The nearest motorway junction is 3 km away, connecting Messina to the east with Palermo to the west. The former is the gateway to the Italian mainland, with regular ferries crossing the channel that was once said to be guarded by the fearsome twin monsters of Greek legend, Scylla and Charybdis. These days, you will be glad to know, the journey is generally rather less dramatic than the one which faced Odysseus and his crew on their way home from the Trojan wars.
Palermo, around an hour's drive away, is Italy's fifth largest city and arguably its most complex and fascinating. A cradle of Mediterranean civilisation for three thousand years, this endlessly evolving melting pot is Italy's uncrowned king of street food, and was its capital of culture in 2018.
Closer to home, the majestic beach resort of Cefalù is the picturesque home of a UNESCO-protected cathedral, a sensational sandy beach and some of the island's most underrated bars and restaurants. Even closer is the little community of Finale di Pollina, with a train station connecting you to Palermo in around 75 minutes.
This land is the foothills of the Madonie Natural park, where some of our favourite Sicilian villages, like the spectacular hilltop Pollina and the quaint Gratteri, dot the beautiful countryside that is so popular with lovers of nature, outdoor sports and traditional gastronomy.
Potential
As we mentioned earlier, it is historically difficult to build property on the sea in Italy, and you may have been spooked by stories of illegal construction on Sicily and resultant legal complications. Rest assured that our survey team has thoroughly scrutinised all of the documentation for Villa Tusa Mare, and everything is perfectly in order, with no skeletons waiting to jump out from the cupboard.
Sold empty, the villa is nonetheless in very good condition and sailed through our evaluation report, with no significant work needing to be done. Some of the decoration could benefit from a more modern touch, perhaps, but nothing is going to be urgent. This well-maintained, sea-view villa in Sicily is ready for immediate occupation.
If you were to invest in accumulators to connect to the solar energy system, you could make the property completely energy independent. Remember that green home improvements can benefit from generous subsidies from the national government.
Drone Shots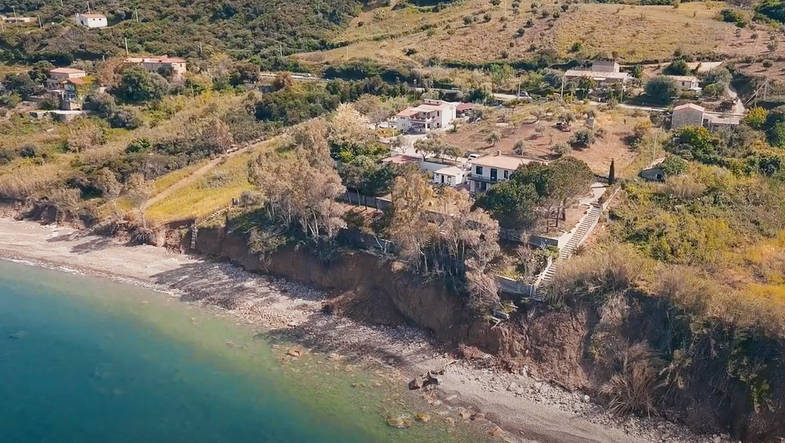 Property Id: 3529
Price: € 430,000
Property Size: 133 m2
Property Lot Size: 3,400 m2
Rooms: 8
Bedrooms: 4
Bathrooms: 2
COUNTRYSIDE
COASTAL
ready to use
sea view
garden
surrounding land
terrace