Property Description
Traditional Sicilian Farmhouse with Land Covering Eight Acres and Spectacular Mountain Views
A rustic farmhouse of unbelievable character, steeped in the rich history and character of the land it overlooks, this traditional two bedroom property sits on a vast eight acre plot of beautiful hillside. Just outside the charming old town of Collesano in the Madonie Natural Park, Casale Nina's views are absolutely phenomenal.
Everyone interested in buying a property in Sicily knows all about the famous Sicilian coastline, and the beaches just 10km to the north of Casale Nina are everything you'd picture – long, unspoilt stretches of sand and shingle, broken up by small towns and villages where the green land meets the perfect turquoise sea. Less appreciated, however, is the verdant countryside of the interior of this island, often assumed to be simply a wash of dry amber and burnt soil. The reality of this region couldn't be more different, as you'll see from our photos and video.
The Madonie are a long rolling range of hills and mountains, reaching up to 2000m above sea level at their highest peaks. Much of the terrain is far lower, however, and Collesano is a pleasant 500m above the Tyrrhenian Sea below. This provides a moderate climate and a verdant green landscape of pastures and meadows. However, in the middle distance the dramatic slopes of some of the park's higher peaks, snow-capped in the short Sicilian winter, are picked out with crystal clarity against the intense blue of the cloudless sky.
This is the kind of landscape you associate with the Alps rather than the Mediterranean – yet here you find it, surrounding the historic stones of Casale Nina, just a short drive from coastal resorts and some of the country's best water sports beaches. This is truly a paradise for lovers of nature and the great outdoors.
While there is certainly some work to be done to modernise this Sicilian farmhouse with land, we're here to offer you our full support right through any changes you would like to make to the property. Keep on reading to find out more, or ask us for details today.
The Property
The 179m2 of interior space within Casale Nina is divided into two floors, although approaching the property from the main gate it appears to be a bungalow. The hillside falls away behind the property, making for some fabulous views and a partially submerged lower level which is currently used for storage. While the irregular stone walls and clay roof tiles appear impeccably traditional and antique, they were in fact both restored some 10-15 years ago, and as such are in very good condition.
The living area consists of a suite of three rooms, a living room, dining room and kitchen, all underneath high ceilings with exposed oak beams. The walls are rough lime plastering, and besides the windows, light and heat come from a large open fireplace and a wood-burning oven in the kitchen. The effect is to create the kind of cosy, timeless getaway that actually feels like it owes as much to the stylings of an English country cottage or an Irish pub as it does to a Mediterranean farmhouse.
The windows, however, transport you to another world. The array of colour and texture from the trees, fields and mountains set the senses tingling, all underneath that enormous Sicilian sky. Nowhere is this more evident than from the master bedroom, up a tiny flight of stairs, whose mountainside panorama would be a joy to wake up to any day of the year.
The floors are partly traditional terracotta tiles, and in some rooms more modern, smoother surfaces. A second double bedroom offers a more limited but still colourful garden view. The bathroom could certainly use a renovation, its patterned tiles very dated and shower unenclosed, and the kitchen is also in need of a bit of a refresh. The original wood over, however, will certainly make a beautiful centrepiece for any restoration work you may consider.
On the downstairs floor, there are four interconnecting storerooms, currently used only to hold unwanted furniture. However, an open fireplace and direct garden access gives this large space a tremendous amount of potential for the future, should you wish to invest a bit of money in it.
Outside, the huge tranche of land is endlessly inviting, gently sloping hillside with oak trees and small shrubs popping up here and there from the grassy carpet underfoot. The rich wildlife of the Madonie park – including hares, birds of prey and even occasional families of wild boar – keep the ecosystem in perfect harmony, and the adventurous chef will be delighted by the array of mushrooms to be discovered.
Surroundings
Casale Nina connects via a winding country lane to the little village of Collesano, near Lascari and Campofelice di Roccella on the north coast of Sicily. Collesano is a friendly community, popular in recent years with arrivals from the north of Europe (many of whom we have ourselves helped to find property in Sicily) but still resolutely traditional in character.
The key priority in this region is always a good life, well lived and above all filled with good food. Local specialities include fragrant sausages and fresh produce like artichokes, tomatoes and olives. Delicacies to sample include the pupa cù l'ova, shortbread biscuits containing a hard-boiled egg eaten at Easter, San Martino biscuits with sweet fennel notes, and the apparicchio, a local caponata made, unusually, without tomato but rich in sun-dried, locally-grown courgettes.
The surrounding hills are filled with Medieval towns, farming villages and historic buildings – churches and hermitages dating back over countless centuries. The hiking trails and excellent cycling roads will keep the more active travellers busy until it's time for a magnificent Sicilian evening meal, back at your Sicilian farmhouse with land to grow your own fresh produce. At sea level, the chic resort town of Cefalù is as photogenic as ever, and the swaggering, endlessly varied metropolis of Palermo is well and truly back on the map as a must-visit weekend break and cruise stop.
Potential
As with any property of this age and character, the challenge for any renovation or restoration work is always going to be balancing historical charm with modern comfort. There's almost unlimited potential to this huge, beautifully-built home, but a few issues you would probably need to address in the short term.
The wooden window frames are beautiful, but only hold single glazing, making heat retention an issue in winter. In the master bedroom, indeed, one of the windows does not even have glass at present! However, with thick stone walls and the final Ecobonus subsidies available for buyers who act quickly, there is potential to create a house which is as energy efficient as it is charismatic.
The electrical and plumbing infrastructure is outdated and needs to be redesigned. Speaking of water, the bathroom is definitely in need of an overhaul. Finally, there are a few marks on the walls, although our survey confirmed that there were only cosmetic and not a symptom of any deeper underlying problem.
The last, but perhaps most exciting theme to discuss when we speak about Casale Nina is the storage space underneath the main apartment. This is so big, characterful and well-constructed that it could be converted into an entire new annexe.
Already boasting a fireplace, it would be more than achievable to add the plumbing for a bathroom and kitchenette, and to create a bedroom and living space from the remaining square meterage. This would obviously change the value of the property dramatically, as you would now own a three bedroom, two bathroom property with vastly increased rental potential.
Drone shot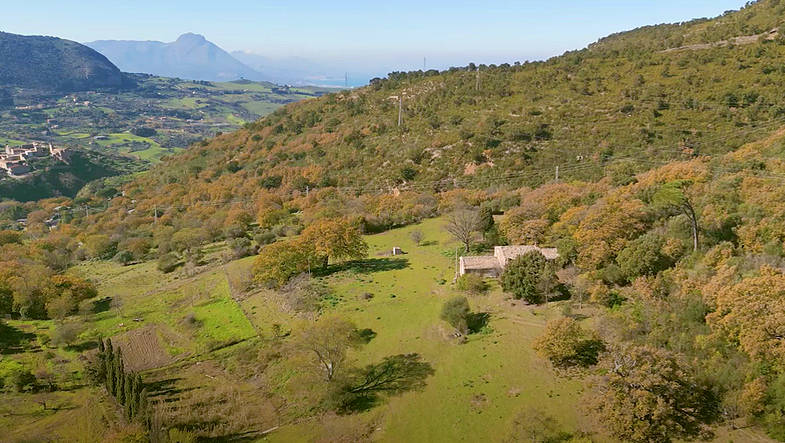 Address: Contrada Pedale
Zip: 90016
Country: Italy
Property Id: 4573
Price: € 250,000
Property Size: 179 m2
Property Lot Size: 32,000 m2
Rooms: 5
Bedrooms: 2
Bathrooms: 1
COUNTRYSIDE
ready to use
garden
surrounding land