Property Description
Beautiful Sea-view Sicilian Villa with 16,000m2 land and Olive Grove
On a large, sea-view plot overlooking the beautiful Mediterranean just a few kilometres west of the legendary beach resort of Cefalù, Villa Basalaci is a spacious, well-maintained and fabulously private country house. The perfect escape from the fast lane of northern European life, the 1980s-built villa is big enough to sleep a dozen guests and offers great potential as a guest house or the kind of escape to the sun that could be shared between multiple families.
Villa Balasaci's 16,000m2 of hillside land is thickly planted with olive trees, whose fruit is processed into high quality olive oil. Around 370 trees generate a whopping 700 litres of well-pressed oil every year.  Just think of the income that could deliver!
It is sold completely as seen, fully furnished and even including equipment to manage the olive harvest and a lawnmower and hedge trimmer to keep the grounds in good order. This is a chance not only to buy into the Sicilian dolce vita, but to take over a going concern which will immediately put you in the thick of the local community. This is a huge boon for the kind of purchaser who values simplicity and speed of transaction, with no need to worry about decoration or furnishings in the short term. You could be in your newly aquired sea-view Sicilian villa before the next long Mediterranean summer rolls around!
The Property
The colourful, lightly modernist exterior of Villa Basalaci, a quintessentially Italian shade of light yellow, sits nestled amongst the olive trees which fill its land. Built on three storeys plus an ample basement, it currently has a total of 200m2 of habitable indoor space, on two equal floors and a loft whose sloping roof reduces this somewhat. The ground floor offers the potential to increase this still further, with an additional 100m2 of space which is currently used chiefly for processing and storing olives and their oil.
The house was built, as is popular in this part of the world, as three separate apartments for three branches of a family to live together but with their own private spaces. At a later date these were combined into one large family house, but if you envision the property as a holiday home for multiple families, a reconfiguration would be feasible. Keep reading to find out more about the support Property in Sicily can offer investors in the tourist industry.
The ground floor is filled with potential but will need some work to realise it. A large open room is divided in two by a charming brickwork archway. There is also a dining room and bedroom. However, at this level the fittings would all need to be replaced in order to integrate the space with the rest of the property.
Reached by a pair of broad staircases, one indoors and one out, the first floor currently serves as an effective 'ground floor'. This is surrounded by a wrap-around patio terrace, offering the perfect vantage point from which to take in the view of the surrounding green treetops, hillsides and the sea in the middle distance. The first floor has a similar, if slightly smaller arrangement, with an ample balcony linking several of the bedrooms.
On the first floor you will find a huge living room with a comfortable sofa and wicker armchairs at one end, and a classy dining suite at the other. A pair of double patio doors open onto different sides of the villa, keeping it brightly-lit and airy. An outdoor dining table makes for a superb change of scene in the hot summer months. Back inside, other choice items of furniture include a splendid glass-fronted dresser and a pair of long storage cupboards.
Connected to this living room by a small hallway are a kitchen – fully-fitted and finished with a local tile – a bathroom with shower, a utility room and a small bedroom. Four more of these are to be found upstairs, a variety of shapes and sizes but none short on room and all with access to the balconies and terraces of this lovely, versatile home.
As well as the bedrooms, the second floor also contains a pair of bathrooms, one with a shower. A staircase then continues up to the attic, which has been converted into a space ready for permanent use. The sloping eaves do restrict the usable space here, as they drop down almost to floor height, but some clever interior design could certainly do a great deal with what remains an ample room.
The utilities of the property are all in good order, with drinking water drawn from the civic main, and a network of cisterns totalling 50,000 litres outside to supplement this. The building's electrics were overhauled at the turn of the millennium, and the PVC windows were installed as recently as 2022. Most rooms have air conditioning, which can also be used to heat the property in winter.
Outdoors, there is an entry road in fair condition, and plenty of parking. As well as the olives, the grounds of Villa Basalaci are also home to a number of delicious fruit trees who provide an annual crop of lemons, pears, apricots, laurels, pomegranates and figs. Lovers of the culinary will relish the challenge of preserving as many of these as possible, and trust us, nothing beats a glass of freshly-squeezed lemonade enjoyed on the balcony of your very own sea-view Sicilian villa.
Surroundings
Although technically within the municipality of Collesano, Villa Basalaci actually stands much closer to the beach of Campofelice di Roccella than it does to the hilltop town that appears on its address. Just a couple of hundred metres above sea level, it stands on a little hilltop from which it enjoys impeccable sea views.
The privacy and seclusion on offer here are really tremendous. The nearest neighbours are a fair distance away, and we can vouch for them ourselves, having helped this lovely German couple move into their own sea-view Sicilian villa a little over a year ago. On the other side lives a fascinating character, a Baroness whose seventeenth-century villa is immersed in a huge sprawling estate.
Despite its remote situation, the site is just ten minutes' drive from the nearest supermarkets, schools, churches, beaches and medical facilities. Nearby Cefalù is just ten minutes further up the road, and Sicily's rapidly-rejuvenating capital city, Palermo, is 40 minutes from your front door. Its extensive shopping facilities, mouthwatering variety of dining options and convenient international airport are all within easy reach.
Looking further afield, the Sicilian treasures of mount Etna, historic Agrigento, the exotic islands of the Aeolians and Aegadians and the fascinating merchant towns of Marsala, Siracusa and Trapani are all no more than a convenient day trip away. The unspoilt landscapes and picturesque hilltop settlements of the Madonie Natural Park are all right on your doorstep.
Potential
While the two middle floors of Villa Basalaci are ready for immediate occupation, fully furnished and ready for all seasons, there is plenty of potential to be found at ground level and under the roof. We have discussed the extensive space available at ground level, and the cool, quiet cavern currently serving as a storeroom would make a statement dining room of almost banquet hall proportions.
Alternatively, why not take advantage of the cool temperatures in this partially submerged space, and install a fitness studio or games room for your family and guests to work out or pass the time on their long summer holidays?
On the top floor, a conversion could include another bathroom, and create one final guest bedroom – or perhaps you would prefer to use the space for storage – especially if you have a few pieces of your own to bring down to this already-furnished home.
If you are considering renovating any of this excellent sea-view Sicilian villa, make sure you don't take too long to act! The fabulous subsidies available for ecologically-responsible construction work in Sicily will remain in place until the end of 2025, but with diminishing rates for work completed after 2023.
Our experienced team has overseen scores of building projects, from minor home improvements to full-scale construction sites, and we can put you in touch with many of our new friends to confirm their satisfaction with our work. We pride ourselves on offering the perfect mediation service, bridging the gap between the local artisans and professions on whom you will rely and the exacting standards you justifiably expect. Our unique mix of local knowledge and international know-how is entirely at your disposal.
Drone Shots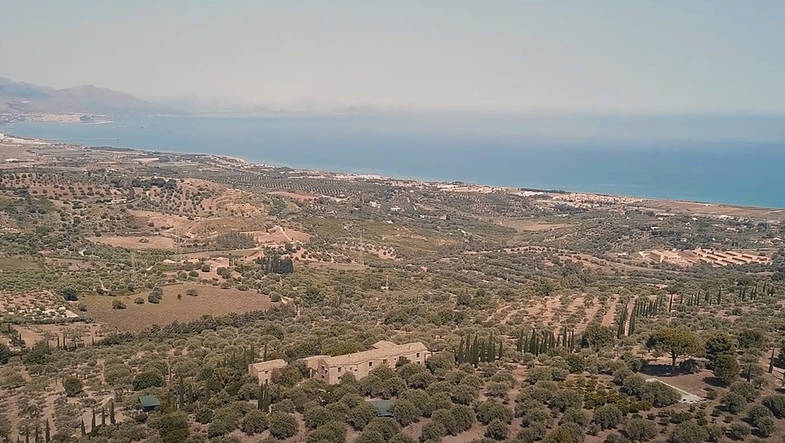 Address: Contrada Basalaci
Zip: 90016
Country: Italy
Property Id: 3800
Price: € 499,000
Property Size: 280 m2
Property Lot Size: 16,000 m2
Rooms: 20
Bedrooms: 4
Bathrooms: 4
COUNTRYSIDE
COASTAL
furnished
ready to use
sea view
garden
surrounding land
terrace
garage
development potential