Property Description
Magnificent Villa with Private Pool and Incredible Panoramas
The small town of Torrenova lies directly on the sea, halfway between the city of Messina and the tourist resort of Cefalú in Sicily's North-eastern corner. On this romantic and unspoilt stretch of coastline, between the wonders of the natural world that are of Mount Etna to the south and the exotic Aeolian archipelago to the north, Villa Graziano bathes in warm sun and intoxicating panoramas.
From a building quality we rated as 'outstanding' to a private swimming pool and even a jacuzzi, this compact but luxurious villa offers everything the discerning buyer could look for for a holiday home. Guaranteed to relax its residents and wow its visitors, this luxury villa with private pool will tempt anybody with the dream of escaping to the Mediterranean.
The Property
Set in ample grounds, which have been immaculately landscaped and maintained (including a huge and thriving lawn – a truly rare sight in baking-hot Sicily), Villa Graziano is shaded by a variety of tropical trees and shrubs. From the neat rows of sunny pink flowers lining the driveway to the imposing palm that makes a powerful centrepiece to the garden, there is colour everywhere. The intelligent management of the terrain in this hillside property also creates an intricate array range of terraces and patios on different levels, and a seamless blend of natural and cultivated scenery.
The views are unbeatable. From the lawn, from large covered terrace, underneath a rustic wooden canopy, and from the wide patio that will host a gorgeous breakfast buffet, you can see the coastline and sea winding alongside each other for dozens of miles.
Tearing yourself away, momentarily, to step inside you find yourself in a large open-plan reception space with a kitchen to your left, dining area in front of you and a comfortable lounge area on your right. Light enters through large windows on three sides, and the larger windows and French doors offer sea views. The high ceilings and charming exposed beams give the room a real breadth and sense of space, while an open fireplace immediately catches the eye. Of course, this being the Mediterranean, the modern air-conditioning unit may get more use!
An internal corridor connects the living space to a master bedroom, whose en-suite features an enormous walk-in shower, a second bedroom (currently used as a study) and a bathroom with tub. A wrap-around balcony extends from the study around to the front of the house, giving views of the pool area as well as the sea.
Downstairs, using the natural gradient of the land, a huge double garage makes an excellent work- or storage space, and another double room benefits from its own en-suite bathroom. If you're in holiday mode (or considering Villa Graziano as an investment property with an eye on the tourist rental market) the house can sleep six people, eight with a sofa bed in the living room, and there are certainly enough facilities to let them all enjoy their stay in ample comfort.
Last but not least, we need to take a moment to properly appreciate the exquisite pool area. Crossing a paved space set aside for car parking, including a large permanently covered area, we come to the poolside. Here there are a pair of terraces, one of which contains a fully-fitted outdoor kitchen. Why prise yourself away from the water for lunch or an evening meal, when you can make it happen right there and then? There is also an outdoor shower and – for when you really need to relax in style – a large jacuzzi with high-pressure hydro-therapeutic jets. The pool itself measures 10m x 5m x 2m and has been very well installed and maintained.
Finished with superb masonry outside and warm terracotta tiling indoors, this is a stylish and elegant property with plenty of character. And as a final bonus, the numerous olive trees on the property are sufficient to keep you in home-produced, freshly-pressed oil all year round. We promise that both you and your guests will adore this authentic Sicilian touch – and the superb taste!
Surroundings
The villa is found in a cul-de-sac on a quiet stretch of hillside outside Torrenova, a community of around five thousand inhabitants – a number which swells somewhat in the summer months. The nearest larger towns are Sant'Agata di Militello to the west and Capo d'Orlando to the east, although Torrenova has all the shops and amenities you'll need for day-to-day life. Each of these little towns has a marina, and sailors will love taking in views of the island from the clear waters of the Tyrrhenian Sea – which begins just 2km from your front door!
Beyond Capo d'Orlando is Milazzo, from where ferries depart at regular intervals for the Aeolian Islands. A little further still lies Messina, the gateway to the Italian peninsula. It's hard to imagine a better location for your new villa, complete with private pool and sea views.
The beautiful Nebrodi park – famous for its sumptuous views and delicious pork products –  is directly inland from this stretch of coastline, and at sea level there are numerous beautiful (and less touristy) beaches to discover. Foremost amongst these, although definitely known to the travelling masses, is Cefalú, a stunning medieval town built underneath a distinctive rocky outcrop, boasting two kilometres of pristine sand and an Arab-Norman cathedral that was recently afforded UNESCO World Heritage Site patronage.
Trains run regularly along the north coast from Messina to Palermo, where you will find one of two international airports that can be reached within a couple of hours.
Potential
Villa Graziano is in beautiful condition and no work would need to be done in the short term. If you are interested in extending the property in any way we would be glad to advise you on the rules and regulations surrounding building work in Sicily, and the opportunities to save money through the generous public subsidies on offer.
Buyers open to a more ambitious project may be interested to know that the land directly over the road from Graziano is owned by the same family as the Villa (and it is part of the sale). In fact it contains the well and water pump that serve the listed property and currently a small orchard with fruit trees.
The prospect of starting a new life in a different country can seem a daunting one, and we won't sugar-coat the fact that Sicilian bureaucracy moves slower than you'll be used to! Why not ease yourself through the transition with the peace of mind of having seven day a week support and assistance from our multilingual team, who have been helping expats transition to life on the island for over twenty years? With our Welcome To Italy package, we'll take care of all the little details, including getting utilities connected, your registration with the municipality and even an activated SIM card for your mobile phone!
Contact us today for more information, or subscribe to our newsletter to be the first to hear about dozens more properties like Villa Graziano.
Drone Video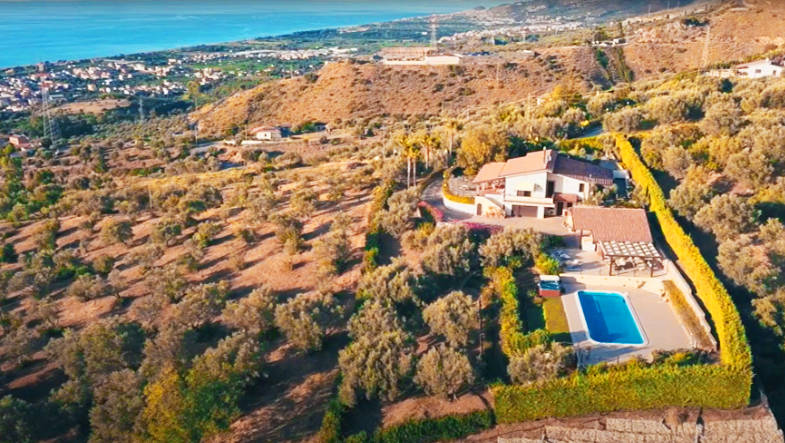 Property Id: 2944
Price: € 530,000
Property Size: 180 m2
Property Lot Size: 4,000 m2
Rooms: 7
Bedrooms: 3
Bathrooms: 3
COUNTRYSIDE
COASTAL
furnished
ready to use
sea view
POOL
garden
surrounding land
terrace
garage